Joely Richardson on Anonymous, Playing Elizabeth and the Trouble With Greenscreen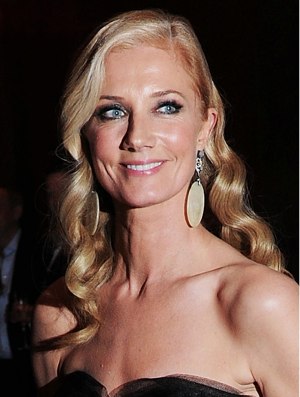 Sure, it's a tough sell. But Anonymous has plenty going for it both behind the camera (director Roland Emmerich and screenwriter John Orloff posit the legitimacy of Shakespeare) and in front of it as well, where a sterling cast including Rhys Ifans, David Thewlis, Mark Rylance and the estimable mother-daughter combo of Vanessa Redgrave and Joely Richardson -- playing Queen Elizabeth I some 40 years apart -- dig into the historical, political and romantic intrigues with relish.
Richardson plays the "Virgin Queen" as anything but; her strong-willed monarch is in fact the cougar-y lover of the young Earl of Oxford (Jamie Campbell Bower), who would himself grow into the forlorn aristocrat (Ifans) responsible for secretly penning Shakespeare's celebrated work. It's the British actress's second time playing a younger version of her mother's character -- not to mention her second collaboration with Emmerich -- with almost a lifetime of changes to account for in between. Richardson explained in a recent conversation with Movieline.
How's this fall's Anonymous tour going for you?
I haven't really been part of the tour because I've been working. What has made me very happy is seeing the audience response. I've seen the film all the way through twice, and in Toronto and then last night I stayed to watch the opening 10-15 minutes, and I'll watch it again in London next week. I just love the way people react. They come out asking questions, which is the best thing -- that they're genuinely involved and engaged and that their minds have been open a bit. Mine was, because I had no idea about the authorship question before we started filming. Well, I had heard about it once from someone, but I thought they were talking rubbish. "Don't be so silly!" And then when I met Roland and John, and they started to tell me about all the facts, and I started to read about what incredibly prominent people who thought about it -- both for and against -- I started to be interested. I realized that it was a real question and a real possibility that it wasn't William Shakespeare, the actor from Stratford.
This is pretty dense stuff. How many reads did it take to take to actually get your head around the theories, ideas and timeline in this script?
It was very difficult. It was a difficult script to read. It was a big leap of faith. I'm not saying that John didn't do a great job -- he did do a great job -- but it just wasn't an easy script to read, because you had to keep back-referencing. That's why, when I first sat down to see the film, I was so excited to see [the finished product]. My mother and my cousin and my daughter had actually seen an early screening, and they called me and said, "It's really good! He's done an amazing job!" So I sat down and watched it and said, "Wow. Roland's done a magnificent job."
Also, so much of it was against greenscreen, so you didn't know how it was going to look.
What was that shooting environment like?
It's very weird. It's very weird. I didn't have a huge amount of greenscreen, but there was one sort of really ridiculous sequence with me and Jamie [Campbell Bower], who plays the young Oxford. We were on a soundstage in Berlin, and it was all greenscreen, and we were meant to be galloping through the countryside. Both of us were on these two horses saying, "Giddy up! Go!" And we both just felt ludicrous. I guess that time it didn't work, because it was cut. I just don't have the imagination and technical knowledge to know how greenscreen works.
Yeah, I definitely don't remember that scene.
Yeah. And I think Jamie and I are quite happy that no one saw that scene in the movie. [Laughs]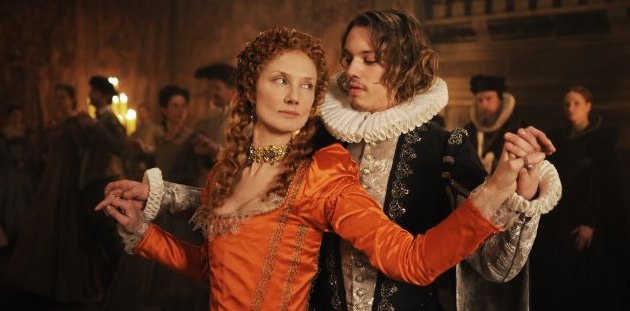 You've played a younger version of one of your mother's characters before [in Wetherby]. How was this turn different? Did that experience help at all?
Not really. When I did it previously, I was still a teenager. I was still at drama school; it was my first job on film. Twenty years have gone by since then, at least, so I've had a couple of decades working. So it was very, very different. I was a total film virgin when I first did that. This was just exciting and lovely and poignant -- and lucky. I felt really lucky that Mum and I were both able to play Elizabeth. Any actress would be.
I read that you and your mother didn't actually talk about how you'd play Elizabeth -- that your relationship or familiarity kind of anchored the character over the years.
Yes, but also, we're not the same people. I mean have you ever seen any footage of you, I don't know, even 10 years ago? Or in 10 years from now -- you won't be the same person. Your voice might even be different. The reason I say that is because I had seen footage of my mother at 30, in an interview she'd done. Her voice was totally different. What she exuded was totally different. I don't think we need gimmicks to correlate the performance. First of all, everyone knows the image of Elizabeth with the bright red hair and the white, white face and no eyebrows. The image was going to work for us, but the young Elizabeth was such a different woman than the older Elizabeth. She's broken by the end. She's lost touch with reality. The young Elizabeth was still sparking.
Didn't that spark require some kind of emotional continuity, though -- some sense or quality in Elizabeth that was exhausted as she went along?
Or having been broken by the decisions -- the very tough decisions -- she's had to make to pick her crown over her heart. We both read the script, and even though it was a difficult script to read, you subliminally or subconsciously know the character's... journey? Ugh! It's such a terrible word. But you know the journey. So I could imagine the older Elizabeth, and I think she could imagine the younger.
You'd also worked previously with Roland on The Patriot. What had changed about him and his working methods, particularly with his cast?
Roland was very different, and I was also very different. I think I was a lot more nervous and probably shy and a little bit intimidated, because as you know, it was a very big film for me to be cast in at the time -- opposite Mel [Gibson] and with Heath [Ledger]. So I wasn't exactly in my comfort zone, though I really was beyond thrilled to have gotten the part. And Roland was a different man, then. He hadn't learned to communicate with actors as much. The man I met nine, 10 years later was just bursting with energy, was incredibly exuberant, wanted to have all the actor decisions. In the days of The Patriot, he worked very closely with the producer Dean Devlin, and Dean would talk more to the actors while Roland told the story through the camera. So he was totally different.
I love and adore Roland, is all I have to say. When somebody does a project they've been wanting to do for years, they are so happy. I think Roland's also in a very happy place in his life as well. It was just his grand enthusiasm. It was like 10 years later, he was 10 years younger than when I first met him.
It just seems like such a revelation to see a guy who most people think of as--
Who know him for his big action films. But he's incredibly intelligent.
Of course!
And obsessed with the arts. Maybe "renaissance man" doesn't apply these days because the times are different, and everyone's a bit more renaissance people. But he is something of a renaissance man.
You've played Elizabeth now, so there's that. If you could play any other historical figure from any point in time, who do you think it would it be?
I've played a lot. Actually, before Elizabeth, I played Catherine Parr [on The Tudors], the last wife of Henry VIII -- the one that got to survive. I played Wallis Simpson [in Wallis & Edward], I've played Marie Antoinette [in The Affair of the Necklace], so I've done quite a few of them. [Laughs] I love playing historical characters. Next? I don't know. I did, in a docudrama, play Virginia Woolf; I'd like another crack at her down the line, just because she's such a fascinating woman. -- just in terms of her mind. But... That's all that's coming to me right now!
Read Movieline's review of Anonymous here, as well as interviews with Rhys Ifans and Roland Emmerich.
Follow S.T. VanAirsdale on Twitter.
Follow Movieline on Twitter.
[Top photo: Getty Images]