Johnny Depp, Bruce Robinson, and Co. Exalt Hunter S. Thompson While Talking The Rum Diary
"They've given us a special dispensation... to have lung cancer." So quipped director Bruce Robinson, joining Johnny Depp and the assembled cast of this weekend's Hunter S. Thompson adaptation The Rum Diary for a late morning presser the other week at the swanky Four Seasons in Beverly Hills. Things kicked things off, appropriately enough, with a cloud of cigar smoke that hung in the air like the ghost of Thompson himself -- whom Robinson insisted was in the room, watching the entire proceedings.
It was all only too appropriate for The Rum Diary, a lush, boozy adaptation of a Hunter S. Thompson novel (written in 1959 but not published until the '90s) about a disillusioned American journalist named Paul Kemp (Depp), who takes a job at the San Juan Star in Puerto Rico and falls in with a motley crew of hard-living newspaper men. In the film, adapted to re-envision certain characters and plot points for the screen, Kemp gets involved with a local mover and shaker named Sanderson (Aaron Eckhart) and falls, hard, for Sanderson's beautiful girlfriend, Chenault (Amber Heard); moral complications, cock fights, and copious inebriation ensue against the glittering backdrop of San Juan.
Depp himself was instrumental in seeing the book published after discovering the manuscript in a cardboard box during a 1997 research session with Thompson for Fear and Loathing in Las Vegas. "We started to read it, cross-legged on the floor," Depp recalled, "and I said, 'Hunter -- this is very good. You're out of your mind. Why don't you publish this thing?'" Read on for nine more revelations from the director and cast of The Rum Diary, including the timeless nugget of wisdom that it's never too early for a beer, as long as you're not actually trying to make a movie.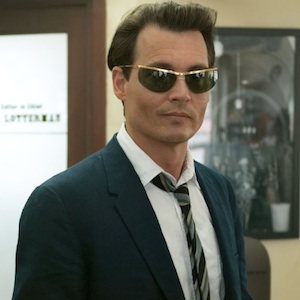 1. After spending many years in voluntary retirement, Bruce Robinson (Withnail & I) was coaxed back into directing by Johnny Depp.
Depp originally wanted Robinson to direct Fear and Loathing, but the director was "unavailable... by choice." Years later, Thompson and Depp agreed that they'd like Robinson for The Rum Diary, but he was still avoiding Hollywood. "If there's any cinema that can be deemed as perfect, Withnail & I is there." Eventually -- many glasses of wine later, they both remember -- Robinson came on board. He compared it to getting back onto a bike. "It was more of a penny farthing than a bicycle," Robinson recalled. "I was a little bit wobbly all over the place, but I was protected by my wonderful associates."
2. What would Hunter S. Thompson think of all this -- the media attention, the movie version of his book, and the press junket itself?
Depp: "Had Hunter arrived at this type of gathering, the first thing he would have done is rip those flowers out of those planters, immediately, and pass them around to every lady in the room. He was that sort of chivalrous Southern gentleman. What would Hunter make of it? I know what Hunter would have made of the film; the first thing he would have done is come up with some horrendous sarcastic remark that would kind of take me off my legs a little bit, and then he would have come up with something incredibly poetic about the work itself, and about what Bruce did with his material."
3. Depp and Robinson agree: Thompson's novel had to be made more cinematic. And, Depp claims, Thompson himself knew the book was "flawed."
"Bruce was able to dissect the thing, and work out some of these flaws that Hunter didn't really have the mind to do back in 1959," Depp explained. "First and foremost was that Hunter had split himself in two; it was Kemp and it was Yeamon in the book. That was never going to work, cinematically."
"This movie was about Johnny being Hunter again -- but there were two Hunters in the book." Robinson solved the problem by combining the characters of Kemp and Yeamon into one.
4. Depp is playing journalist hero Paul Kemp as a "pre-Gonzo" version of Hunter S. Thompson.
"Having played Hunter in the form of Raoul Duke, circa 1971-1972, that was a full-blown Hunter. That was a Hunter that existed up until the day he turned to smoke. The '59-'60 Hunter was this kid, who was teetering on the verge of finding his voice, of finding that avenue or that outlet for the rage, for that passion, for that anger. For all the injustices that he railed against. So Bruce and I talked early on about it; 'Let's not go into this sort of over-the-top Hunter,' and Hunter was quite over the top. Let him be this pre-Gonzo Hunter."
5. How much drinking did the cast and crew do while filming The Rum Diaries? Depp and Robinson (sitting with a now-empty Corona bottle) demurred.
"I don't drink," said Depp.
"Neither Johnny nor I ever touched one sip of alcohol during the movie, and we're very proud of that," Robinson joked. "We were able to get through this entire picture without once hearing the pop of a cork."
Co-star Amber Heard chimed in: "They had it in IV form."
"Suppositories of Haut-Brion were delivered every night, so we had a few of those," Robinson admitted. "Yes, at the end of the day, we would be seduced into various trailers where corks would pop. But generally they were long days, 16 hour days, and much as I would love to have started drinking at 5 am in the morning, there was no way that we could do that and make the film. [Pause] However, I'm not making a film at the moment, and consequently I was drinking at 5 am!"
6. Depp remembered the side of his friend Thompson that few people knew.
Even though Thompson had an acute "bullshit detector, or barometer for horse shit," there was a different side to the man that only close confidants saw. "The main thing that no one really understood about Hunter or realized about Hunter was that he [had] a very sort of strong, thick moral fiber. He was first and foremost a Southern gentleman, chivalrous, and no one ever sort of dared to look at that side of him, or was ever exposed to that side. He was a very sensitive, hyper-sensitive man -- hence the self-medication. That's a side that no one ever saw. What everyone expected from Hunter Thompson was the circus came to town -- what's he gonna do now? The first time I met him, he walked into a bar and cleared a path with a giant cattle prod and a taser gun, and did that for about ten minutes... and it worked. So there was that side to him that people expected. But the other side, when you really spent time with him, was this very intelligent, hyper-sensitive, beautiful man."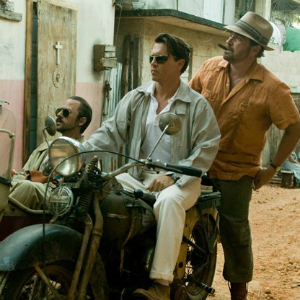 7. Depp laughs off the insane stories written about him in the press.
"If they swat you around for long enough there is a persona that's cultivated by someone other than yourself. They've put me in all kinds of situations over the past 25 years, you know. I've had a love affair with the Pope... he's dead now, it's okay [to talk about]. [Laughs] I was the runner-up to Michael Jackson. All these things that they just create to sell a magazine. It's got nothing to do with me."
8. The Curse of Lono is another Thompson book Depp would like to adapt.
Depp would love to keep playing iterations of Thompson in films based on his other books, including Curse of Lono, The Kentucky Derby is Decadent and Depraved, and Hell's Angels. "I'd just keep playing Hunter. There's a great comfort in it for me, because I get a great visit with my old friend who I miss dearly."
9. Bill Murray traded notes with Depp on playing Hunter S. Thompson.
On the first day of filming Fear and Loathing, Depp got a surprise call from Bill Murray, who'd played Thompson in 1980's Where the Buffalo Roam. "He says, 'I just want to warn you about something... be careful when you're playing Hunter, because he never leaves. He'll never go away.' And nothing has ever been more true."
Follow Jen Yamato on Twitter.
Follow Movieline on Twitter.