Are You Watching This World Series?, and 6 Other Stories You'll Be Talking About Today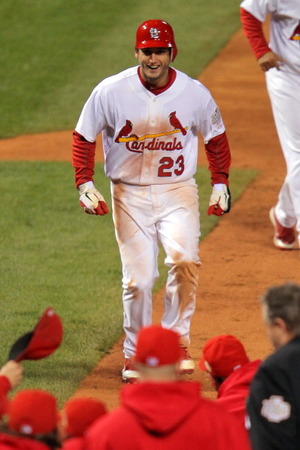 Happy Friday! Also in this edition of The Broadsheet: Discover the subject of Drive's celebrated closing theme... Philip K. Dick's family wants to get paid... The great Channing Tatum/Steven Soderbergh male-stripper movie gets a release date... and more.
· Forgive the diversion, but holy shit are you watching this World Series? The St. Louis Cardinals/Texas Rangers match-up has had everything: Historic slugging, National Anthem wars, political implications, and Thursday's ungodly extra-inning Game 6, won by the comeback Cardinals in the 11th off David Freese's dramatic home run. Even the sports shruggers I've watched with over the last week haven't been able to take their eyes off it. And tonight is Game 7! Clear your calendar! It doesn't get better than this. [ESPN]
· Life-saving US Airways pilot Sully Sullenberger and Mad Max served as the joint inspirations for Drive's uber-catchy closing theme "A Real Hero." Obviously. [Vulture]
· The family of late sci-fi author Philip K. Dick are suing the producers at Media Rights Capital and director George Nolfi for a piece of The Adjustment Bureau's box-office pie, alleging that Nolfi optioned the original short story at a bargain rate of $25,000 with a promise to pay out if he ever made the adaptation. Now the defendants argue the story is in the public domain. Right. Hollywood is so full of Dicks. [THR]
· This is brilliant: Channing Tatum's semi-autobiographical, Steven Soderbergh-directed male-stripper opus Magic Mike will open June 29, 2012 -- the same day Tatum's tentpole G.I. Joe 2 hits theaters. Date night will never be the same. [LAT]
· Today in gratuitous headlines: "Are Elizabeth Olsen and Carey Mulligan paving way for new nudity?" Hint: No. But you try not clicking. [LAT]
· Today in awesome dual-meaning headlines: "Academy To Launch Governors Awards Film Fest With Oprah And Exorcist." And you get an exorcism! And you get an exorcism! Anyway. [Deadline]
· What's shakin' in North Korea? Oh, not much, just Pyongyang wanting to develop the country into an international IT outsourcing destination. You know, because tech support just isn't complicated enough to begin with. [38 North]
[Photo: Getty Images]
Follow S.T. VanAirsdale on Twitter.
Follow Movieline on Twitter.