About the Time the Twilight Cast Broke Into a Flash Mob Dance Battle on the Set of Breaking Dawn...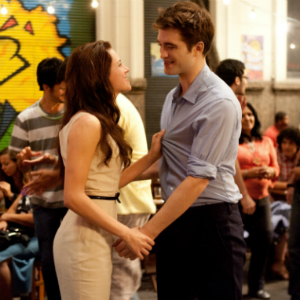 Bill Condon rang Movieline today for a special early chat about The Twilight Saga: Breaking Dawn Part One, and while the full interview will post soon, we've got a snippet to whet your appetite. Between talk of vampire weddings and critical expectations and such, Condon shared a particularly fond memory of the time when, during filming of an epic battle scene from the simultaneously-filmed Breaking Dawn Part Two, the guy from The Fall led his entire cast in an impromptu flash mob dance-off to the sounds of the Eurythmics. Hear the tale after the jump!
Word on the street was that filming on The Twilight Saga: Breaking Dawn was interrupted by a pre-meditated prank, pulled on Condon, by nearly his entire cast -- a choreographed dance-off that took the director by surprise in the middle of a key battle scene.
"It was one of the greatest things I've ever seen," Condon told Movieline. He explained how it all happened.
"In that second movie, as you know from the book, a half-hour of it takes place in this one location, this one field," Condon said. "We shot there for, when you include the second unit, a couple of months -- but the first unit was there for many weeks."
"When we came to the last, widest shot, with 80 vampires on one side and 27 vampires on the other, I'm sitting up the ladder and suddenly you hear this music -- 'Sweet Dreams (Are Made of This).' And the Cullen side starts this incredible, West Side Story-kind of rumble. The other vampires then start to dance back. It was unbelievably big."
Who was responsible for the vampire dance-off? "I know Myanna Buring was behind it, and Lee Pace," Condon said. "There were a couple of others. I should figure out exactly who. But they kept it a secret! They rehearsed this number for a week, and kept it a secret. It was so great."
Luckily, Condon adds, "there was a lot of B-camera rolling." There's a very good chance it'll make it onto the eventual Breaking Dawn DVD/Blu-ray, but there's just one catch: It's part of Breaking Dawn Part Two, which brings the saga to a close on November 16, 2012 -- which means it could be over a year until the footage sees the light of day on home video.
Check back for more of Movieline's early chat with Condon (with even more Breaking Dawn Part One interviews to come in anticipation of the film's November 18 release).
See Movieline's gallery of new images from The Twilight Saga: Breaking Dawn Part 1.
Follow Jen Yamato on Twitter.
Follow Movieline on Twitter.