Benicio Del Toro, Others Linked to Outcry Over Academy's 'Discriminatory' Puerto Rico Ban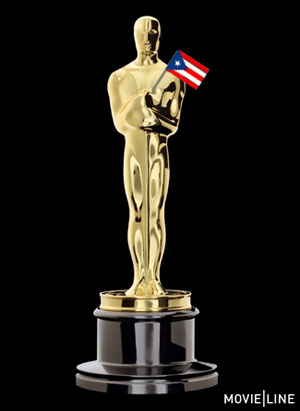 Benicio Del Toro, Jimmy Smits and Esai Morales are among the stars named in a protest of the Academy of Motion Picture Arts and Sciences' new rule to block Puerto Rico from competing in the Foreign-Language Oscar race.
Their concerns were made public this morning in a press release distributed by Puerto Rican producer Frances Lausell, who said that the Academy rejected her film America from submission after last year's decision to exclude the U.S. territory from the running. At the time, AMPAS executive director Bruce Davis explained the rationale in a letter to the Puerto Rico Film Commission [PDF here]:
We are aware of course that few issues present as much complexity as the determination of Puerto Rico's political status. Past Academy committees have tended to sidestep the issue, or to conclude that Puerto Rico was near enough to being a sovereign nation to warrant inclusion in the Foreign Language competition. That view has now been abandoned. The current committee, working from the fact that Puerto Rican artists are U.S. citizens, has ruled that in allowing them to compete in this particular category, the Academy would open itself to the same suspicion of favoritism that we have been at pains to avoid with respect to filmmakers based in the fifty states.
On the one hand, the committee is consistent: Just a few weeks ago it ruled Albania's entry, The Forgiveness of Blood, ineligible because of "crew composition" that included American director Joshua Marston (who'd been through this previously with his acclaimed Maria Full of Grace). This came despite Blood's Albanian language dialogue, co-written by native scribe Andamion Murataj.
On the other hand, as Marston alluded when the decision came down, the committee is vague and more than a little myopic. Citing Rule 14 of the Oscars ("A foreign-language film is defined as a feature-length motion picture produced outside the United States of America with a predominantly non-English dialogue track"), Puerto Rico Film Commissioner Mariella Perez Serrano argued further this month in a letter to AMPAS [PDF here]:
This provision does not require that the producers, the director, or any member of the cast or crew must be a non-US citizen. In order [sic] words, the criterion for this category is not who makes the film, but where it is produced and the language of the dialogue track. Therefore, the films made in Puerto Rico can be eligible under the regulations for the Foreign Language Film category because they are produced outside the United States and provided they have a predominantly non-English dialogue track.
Only 11 Puerto Rican films have ever been submitted to the Academy for consideration, with just one -- the 1990 effort Lo que le pasó a Santiago -- earning a Best Foreign Language Film nomination. (It lost to Cinema Paradiso.) Nevertheless, Lausell has a petition up and running at RecognizePuertoRico.com, invoking various screen imprimaturs of Puerto Rican heritage in a campaign to reverse the Academy's "offensive" ruling:
The decision is incorrect on many levels, as even our production company is considered a foreign corporation for tax and legal purposes, because it's registered to do business in Puerto Rico. [...] I understand the Academy was lead to make an uninformed decision that could wrongly portray it as a discriminatory entity against Latinos and Puerto Ricans. I just want to help them make the right decision based on all the facts.
Fair enough. That said, A Separation is going to run the table in February, and the way overdue Michael Haneke has his Isabelle Huppert stroke-victim heart-wrencher on the way for 2012, so maybe just give it a couple years?
Follow S.T. VanAirsdale on Twitter.
Follow Movieline on Twitter.