'Ashton Kutcher is the King of Commitment,' and 8 Other Revelations From The Double Star Topher Grace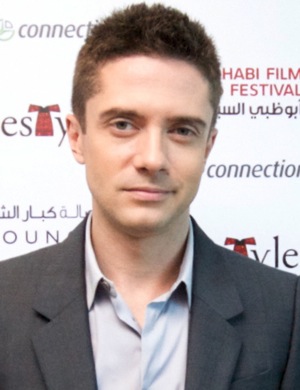 In the upcoming political thriller The Double, Topher Grace and Richard Gere star as an unlikely duo of intelligence agents paired to solve the mystery of a senator's murder. The twisty plot leads them through a trail involving a psychopathic Soviet assassin (Stephen Moyer), Shakespearean code names and one double (get it) identity that culminates with a surprising ending in screenwriter Michael Brandt's (3:10 to Yuma, Wanted) directorial debut.
To promote the film -- due in theaters this Friday -- Topher Grace met with a handful of journalists in Beverly Hills yesterday to discuss, among other things, Richard Gere's incredible calmness, the state of his relationship with the '70s Show cast and to make one unfortunately ironic statement about his friend and former co-star Ashton Kutcher. Revelations ahead!
1. Babies hate Topher Grace.
[While discussing some of the things he learned while preparing for this role.] "And then there was holding a baby -- [that] was the scariest of all the things. I don't think I mastered that. Odette was so good with the kid and then she'd pass it to me and it would just start crying. I never held a baby before. [...] It's twins so that you can swap them out but both babies hated me."
2. Richard Gere prays for fallen insects.
"He's really zen, man. The rumors are true. We were at this dinner and it was me, Odette and him in this scene where we're having dinner. There are bugs all over the place and I'm [smacks imaginary bugs all over his body] and I look over [at Richard] and am like, 'Oh, sorry.' He's friends with the Dalai Lama and stuff. He says, 'Don't worry, I'm saying a prayer for each [mosquito you kill].'"
3. Speaking of Richard Gere, the actor is also cool with you sucking blood from his face.
"Then, during the scene, and this was incredible and shows what a great guy he is -- it bleeds into his roles how unflappable he is. This mosquito landed and was pumping blood out of his cheek. [...] It had been awhile and this mosquito is getting fat with blood. And he finally said, 'There's a mosquito on my cheek, huh?' And he lifted it [mimes gently lifting a mosquito off his cheek and tossing it into the air] and said, 'Enjoy the snack.' It's crazy. I was blown away by that kind of stillness."
4. Topher Grace finds adultery-related greeting card gags funny -- but also in bad taste.
"I have this family portrait that's in the film [of him, Odette and their movie children] that I put in my office at home. I told Odette that I was going to send it out as our Christmas card. [Laughs] She just got married by the way so that would have been in really bad taste."
5. Yes, the '70s Show alum has slept in a bunk bed in the past year.
[Responding to a question about The Wedding, which he filmed with Diane Keaton, Robert De Niro and Katherine Heigl last summer:] "It was shot in my hometown. That was just a coincidence but my folks still live there and I slept in my bunk bed from when I was twelve."
6. He calls Katherine Heigl 'Katie.'
[Describing The Wedding, due in theaters next year] "Diane [Keaton] and Robert De Niro are my and Katie Heigl's folks. Susan Sarandon and Robin Williams are kind of the stepparents."
7. Topher has a gift for making incredibly ironic statements about Ashton Kutcher, given the media storm surrounding his supposed affair.
[When asked if he was surprised that his '70s Show castmates have gone on to enjoy such successful careers] "It strikes me that I've had work after the show. That is amazing. But I knew their talent -- better than a lot of people who were just watching the show because I was with them every day. I'm not surprised at all. Ashton is the king of commitment. If you give him something, he will commit to it. I saw him be given some ridiculous things and he commits to it so much it becomes real and really good."
8. The '70s Show cast still hangs out.
"[Mila] just went to Laura Prepon's sitcom taping. She was also doing a Chelsea Handler show and I went with Wilmer [Valderrama], who's also doing a show on NBC. Then we went next door and visited Ashton. We were all standing there like, 'Whoa.' We're all those cliches. We're really close and we all love each other. "
9. Topher Grace is not motivated by motivational speakers.
[While discussing his preparation for the role of a motivational speaker in the upcoming Giant Mechanical Man] "It was depressing. It motivated me to make fun of them. I can't wait to do press for that because I feel like I have so much to say about that. What makes one human being stand up and tell other human beings how to be living their life?"
Follow Julie Miller on Twitter.
Follow Movieline on Twitter.