Puss in Boots is Eastwood-esque and 8 More Revelations About the Shrek Spin-Off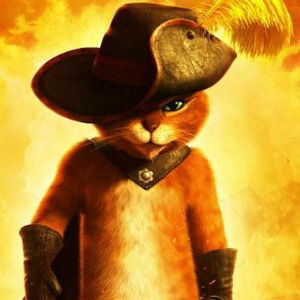 DreamWorks Animation's Shrek spinoff Puss in Boots is racing into theaters on Friday, a week earlier than originally scheduled. Director Chris Miller and voice cast including Antonio Banderas, Salma Hayek and Zach Galifianakis joked their way through a press conference over the weekend, and Movieline was there to bring you some of the slightly more serious communiqués from the PIB team:
1. On his own epic adventure, Shrek's swashbuckling cat is a Clint Eastwood protege.
Not content to be simply an homage to spaghetti Westerns, Puss in Boots took inspiration from the likes of Sergio Leone but went just as heavy on its own pursuit of epic storytelling. And 3-D was more than just a meatball on top. "The spaghetti Western style, the Sergio Leone vibe the film has, is part of the fabric, but really we wanted to make a film that was based on lots of legends, a very legendary, epic movie, and took some cues from some classic cinematic figures like Clint Eastwood," Miller said. "I actually see more Clint Eastwood than Sergio Leone [in Puss in Boots], but there's also a bit of Indiana Jones, some James Bond in there, some Zorro, some Errol Flynn, and once again the character is so dynamic. 3-D lends itself to his world, for scale and depth and really helped inform the action scenes, knowing that we had that tool," Miller said.
2. Banderas says heroes with thick accents were a long time coming.
"When I came to America 21 years ago, I was told I would only play bad characters in movies, but in 21 years things have changed very much," Banderas said. "I'm very proud that our characters are Latinos, and I think it's good for cultural impact, and this will be seen by kids, who actually don't judge. They will see that the heroes have actually have a strong accent."
3. The kids are all right.
Hayek had little time to break it to her 4-year-old that neither Puss in Boots nor her own sassy cat character, Kitty Softpaws, is real. "It's like the Santa thing in a way," Hayek said. "I took her to see one movie, and in the previews I see the cat and say, 'Oh no, I have two seconds to break it to her,' but before I could say anything my character came on board, and she said, 'Oh my gosh, Mommy, that cat sounds just like you,' and I said, 'Actually it is me.' I had to explain to her that it's not real, it's drawings on the computer. She was confused for a couple of days, but now she loves it. She's so proud of me." As for Banderas' kids? "Ten years ago my kids were still kids, but now my oldest is 26. He's in a rock band in Brooklyn, so his experience is something like [mimics disaffected deep voice] 'That's a cool cat, dad.'"
4. Miller is as good at spinning a yarn as Salma Hayek's grandma.
Hayek said she didn't prepare much for the role of Puss in Boots' love interest. "They never gave me the script so I just showed up," she said. (Miller interjected: "There wasn't one.") "There was no drawings or anything at the beginning. It was just Chris and I, and he explained things to me. It reminded me of my grandmother, who used to tell me the most amazing tales, and you had to imagine everything. It was like this. He would walk me through it, even the production design, he would explain to me, and then we'd do the scenes."
5. Billy Bob Thornton has a secret weapon in his acting arsenal, and it's called "hillbilly."
Amy Sedaris points out that Jack and Jill, now two grizzled thugs hoping to settle down together on the windfall from their magic beans, were siblings in their original fairy tale. "And that's why they chose the hillbillies to play them," Thornton quipped. "Our characters were completely different from what we saw as kids. Humpty Dumpty at least was an egg. My character looks like Henry VIII's mentally challenged brother." Sedaris said Jill suits her: "I really liked my size in the movie, and if I wanted to look like that in a regular movie they wouldn't let me. ... I was so happy. I thought she was attractive. I really wanted a husband, and they gave me a husband in the movie."
6. Zach Galifianakis is on a first name basis with Humpty Dumpty.
The comedian went straight to the source to crack his character, the onetime best friend of Puss in Boots. "I interviewed the real Humpty Dumpty. He's about 89 years old," Galifianakis said. "He's a little bit emotional and he's a little greedy and I think he's a little vindictive, but he is also trying to have a friendship, legitimately, but his greed gets the best of him, but I think down deep in his yolk that he's an OK guy."
7. Guillermo del Toro leaving the Hobbit director's chair was a boon to Boots.
Miller and Banderas said that del Toro, new to the DreamWorks fold, was a blessing as an executive producer on Puss in Boots. Del Toro added fantastical elements to the story that worked well in 3-D, the director said. Banderas was glad to see the extra Latino flavor: "I suppose to a certain point because he's Mexican, [he was] checking out how the Latino feeling of the movie was portrayed, because he was helping out in that, too. You feel secure in that aspect, that a Latino is going to be there."
8. Nobody involved in the film is sure of the exact evolution of Puss in Boots.
Banderas and co. consider it a victory that Puss in Boots is a Latino character because his original incarnation was French. Hayek responded: "Yes, we [Spain] killed them in soccer at the World Cup, and now we have Puss in Boots!" When Sedaris asked whether Puss' fur was always orange, Miller admitted he hadn't read the original French tale, to which Sedaris mocked him with a gotcha-style, "Oooooh!"
9. Directors working with Thornton had better watch their backs.
Despite his character's criminal tendencies, Thornton said his first experience working with a director on an animated film was a welcome reversal. "Usually in live-action movies the director is the first guy I want to go over and grab by the neck, and I didn't have to strangle him one time. It was a lot of fun." Maybe that explains why Thornton has returned to directing himself. He recently finished filming Jayne Mansfield's Car, a drama with "very dark humor" that Thornton called Sling Blade-like. The title is not to be taken literally as it's not about Mansfield's death. "It's about how war affects different generations, done in a darkly humorous way, about the examination of life and death," Thornton said.
Follow Movieline on Twitter.