Is a Mob Story the Right Good Will Hunting Follow-Up For Ben Affleck and Matt Damon?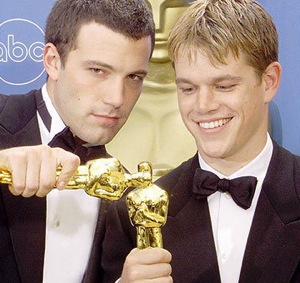 Yesterday it was announced that Ben Affleck and Matt Damon will tackle their first major feature project together since Good Will Hunting -- a biopic about Boston mob boss Whitey Bulger that will star Damon and be directed by Affleck. It's worth wondering though -- is a mob film the right follow-up to the esteemed break-out project that earned both actors/screenwriters Academy Awards and established them as marketable Holllywood stars?
In 1997, childhood friends Affleck and Damon rose to fame with the release of the drama they co-wrote and starred in. The Gus Van Sant-directed Good Will Hunting -- about a wayward blue collar math genius forced to evaluate himself and his relationships -- launched both actors/screenwriters into the A-list stratosphere where they immediately separated professionally to prove that they were talented individual entities. Damon found success onscreen with The Rainmaker, Saving Private Ryan, Ocean's Eleven and the Bourne franchise. Affleck meanwhile transitioned a lucrative acting career (Armageddon, Pearl Harbor, The Sum of All Fears) into a successful directing stretch (Gone Baby Gone and The Town).
Although the pair reunited to act in the odd ensemble project (Dogma), produce (Matchstick Men, American Pie 2 and others under their LivePlanet shingle) and to participate in the occasional late night gag, the pair have not reunited for a real picture partnership since Good Will Hunting.
The Bulger biopic is definitely a safe project considering that like Affleck's first two directorial endeavors, the Warner Bros. film will be a gritty crime drama set in Boston. It is also unsafe in that Damon will have to convince audiences that he is not just a wholesome amnesiac assassin but James "Whitey" Bulger, the notorious Boston crime boss who spent over a dozen years on the FBI Most Wanted List and was wanted for 19 murders before his arrest last year at the age of 82. Damon has played deceitful characters (The Talented Mr. Ripley, Ocean's Eleven) and based-on-real-life characters (Invictus and The Informant) before but it may be hard pursuading viewers that Damon is a cold-blooded criminal mastermind.
Oh, and then there is that weird Departed coincidence. Damon co-starred in Martin Scorsese's 2006 crime thriller which featured Jack Nicholson as a coke-loving crime boss largely based on Bulger. Not only will Damon have two Bulger-related titles on his resume, but he is also setting himself up for inevitable comparisons to Nicholson's gravelly portrayal of the criminal.
Deadline reports that unlike The Departed, the Affleck-Damon film will chronicle Bulger's youth, the time he spent behind bars in Alcatraz and his life as a crime boss. This time, Affleck and Damon are leaving the screenwriting duties to Boardwalk Empire creator Terence Winter.
If it works, it could push Affleck and Damon one step closer to becoming one of our great filmmaking twosomes -- like Tim Burton and Johnny Depp, Martin Scorsese and Robert De Niro and Quentin Tarantino and Uma Thurman. And if not, it could have us wishing that the Boston-bred pair had opted for Good Will Hunting 2. Enjoy this classic scene from their 1997 breakout before weighing in below.
Follow Julie Miller on Twitter.
Follow Movieline on Twitter.
· Affleck, Damon reteam on Bulger bio [Variety]