Sean Durkin Talks Martha Marcy May Marlene, Elizabeth Olsen's Face and Directing Like a Coach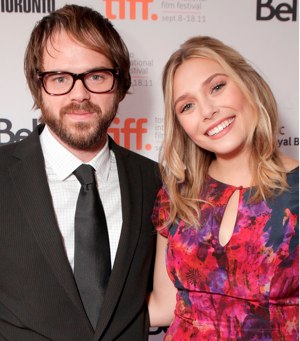 It's every young filmmaker's dream scenario: Break through and sell your film at Sundance before making the rounds at not one, not two, not three, but four major international festivals. Then bring it home and watch it open strong in limited release ahead of a likely awards campaign that will find you back in the spotlight while developing your eagerly anticipated follow-up. Think it's too good to be true? Meet Sean Durkin.
Durkin's feature debut, Martha Marcy May Marlene, made its way to theaters Friday as one of 2011's most critically acclaimed efforts. Starring Elizabeth Olsen in her own shattering debut as a cult escapee whose refuge with her sister and brother-in-law (Sarah Paulson and Hugh Dancy) is riven by flashbacks and other paranoiac delusions, Martha is both a textbook example of modest, mood-driven low-budget filmmaking and a case study in collaboration: The film was co-produced and developed in concert with Durkin's partners at Borderline Films, which he founded with multi-hyphenate peers Josh Mond and Antonio Campos.
Durkin recently spoke to Movieline about conceiving, casting, shaping, making and living with Martha, one of the more rousing indie success stories of this or any year.
I've read more and more into your background over the last nine months as this film made the festival rounds, but let me hear it from you: How did you get into filmmaking?
I was really into writing short fiction and also photography when I was a kid. I kind of always knew I wanted to be a filmmaker, but I never really did it. I was a lot more focused on sports growing up.
Really?
Yeah, I was a soccer player, and I was really into basketball. Soccer was very much my focus. I went to my first college to play soccer. And then as I got there, I just had this realization that I'd had this idea of being a filmmaker in the back of my head for so long, and I was writing fiction and taking pictures and merging those two, and about two and a half years into college I decided to transfer -- and I got into NYU. Once I got in there and started making films, I met Josh [Mond] and Antonio [Campos], my two partners, and we just immediately started working. And we never looked back.
How did that partnership develop? How did you determine what you wanted and that you could or should go for it?
Josh and I were in the same class where you make these one-minute films, and we were in the same group. We just started making these short black-and-white films together. And we started talking about film in general; we both wanted to use NYU to find our crew and start our company. Naturally working together and becoming friends, we started to do that, and then we met Antonio soon after and started collaborating with him. It was a very gradual process. That's just what our team became, with a few other people. We had the same goals -- to have a company -- and we started that company in school. But then we thought, "How are we going to transition so we can make films?" We started to do music videos, small commercials -- anything we could get. We worked in casting on the side. And we decided to share all the money we made evenly to support the projects. At first, Josh and I were doing music videos while Antonio was writing Afterschool. So it was this idea of knowing how to internally develop projects and making sure that we could take care of each other and focus our energies on making films. It just kept continuing to grow from there; there was never a time when we said, "OK, we're gonna do this now!" It just grew and grew and never stopped.
How did Martha come about?
Martha was an idea I first had when I got out of school. I was thinking about what I could do as a first feature, and I had this idea about making a modern-day cult film. That was it to begin with. I just started writing and reading and meeting people, then writing more and reading more and building and building. It gradually became what it was.
Did you have this genre in mind for it -- the psychological thriller?
Yeah. Those are the kinds of films that I like. Even in my two films at NYU, one was like a horror film and the other was like a thriller; it was pretty dark. That's just been my interest since... forever. When I was a little kid, I loved horror films. I always liked being scared. So I think it was inevitable. And that was one of the things that drew me to it -- I was terrified of cults. I think that probably drew me in -- being scared of groups and conforming with them. So it was always going to be that.
And where it really took its shape was when I met somebody who told me about her experience -- the first few weeks after, and how disorienting it was. She was lying to everyone, she thought they were following her. And when I heard that, that's when I decided that would be the time for me to focus on. Up to that point, I had read about all the periods of cult process and getting out -- five years later, rehabilitation, or how someone got it. I just decided after that meeting it would be the place to go.
The filmmaking's great, but this movie seems to really come together in the casting -- this blend of newcomers and veterans? How was it assembled?
For me, how you combine the acting with the script is the most important. Everything else comes after that.
I mean, just get it in focus!
Yeah! Acting is very much the priority. The cast was pretty much entirely handpicked by my casting director, Susan Shopmaker. I think that a lot of times, director and producers don't let casting directors do their jobs. When you really collaborate with somebody -- and I try to do this with everybody I work with -- you fully collaborate and hire somebody because of their talent. Let them do their work, as long as you know you're on the same page and you're making the same movie and you're working with them. Susan I've known for years. I worked for her for a long time. She cast all of my movies at Borderline; she always has. She's amazing, and I've just let her do her thing. Basically she handpicked a lot of the cast, and there were a couple people I knew. For Martha, we wanted an unknown actress, so we held open casting for three or four weeks; we'd see every unknown actress we could see. They came in, and Lizzie was the best.
Pages: 1 2