Weekend Receipts: Paranormal Activity 3 Notches Abnormally Big Premiere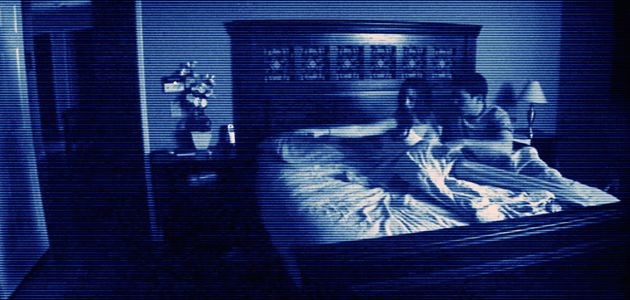 Some of us were too busy this weekend taking in Martha Marcy May Marlene and Margin Call to bother with such plebeian fare as Paranormal Activity 3, but I suppose I'll acknowledge the found footage thriller's big feat this weekend: Not only did it jazz up a comatose box office, it also notched the highest opening ever for a horror movie. Fancy! Click through for all the notable grosses and help me lament Johnny English's stateside downfall.
1. Paranormal Activity
Gross: $54,020,000
Screens: 3,321
Weeks: 1
Other facts about this bank-breaker: It's the highest opening since July's Harry Potter and the Deathly Hallows - Part 2 and it opened bigger than Paranormal Activity 2, which is an anomaly in terms of sequel grosses. Otherwise? It's not a particularly well-reviewed film and we should all start thinking about MANSON-LIKE CULTS WITH DOWNTRODDEN OLSENS IN THEM. Just a hint.
2. Real Steel
Gross: $11,319,000 ($67,226,640)
Screens: 3,412
Weeks: 3
People keep seeing Real Steel, and it's time we come to terms with it. I'll justify it this way: The combination of a gritty underworld and emotional robots is just like that great new Rihanna video "We Found Love." Drugs! Rihanna's robo-whine! Rihanna is the closest thing we have to a sign of the robot apocalypse. Anyway, "We Found Love" just needs Hugh Jackman's stoic stare and it's looking at a $70 million gross.
3. Footloose
Gross: $10,850,000 ($30,863,031)
Screens: 3,555
Weeks: 2
Footloose is scaring up some decent reviews for being a by-the-book rehashing and a formulaic morality tale. Everything you need to know about Footloose can be gleaned in the video for Big and Rich's "Fake ID," which takes place during one of the movie's key hootenannies. Boots-a-bustlin'.
4. The Three Musketeers
Gross: $8,800,000
Screens: 3,017
Weeks: 1
Logan Lerman, please cue up your nervous giggles, because this is an unsightly total. Apparently Orlando Bloom's fighter mettle, Christoph Waltz's ravishing cardinal costume, and 3-D swashbuckler gymnastics weren't enough to win an eight-figure receipt. More like Alexander Doom-as!
5. The Ides of March
Gross: $4,900,000
Screens: 2,042
Weeks: 3
CHALLENGE: Rank the six lead performances in this movie worst to best. Here I go: 6) Evan Rachel Wood, 5) Ryan Gosling, 4) George Clooney, 3) Philip Seymour Hoffman, 2) Paul Giamatti, 1) Marisa Tomei. Guys, Marisa killed it. I hate that the movie's title is a pun on her character's name (Ida), but Tomei's performance as a persistent, but fair NYT journalist makes this movie's drama seem plenty more credible than its politicians.
---
8. Johnny English Reborn
Gross: $3,800,000
Screens: 1,552
Weeks: 1
Either Rowan Atkinson isn't a draw to American audiences (since his new movie finished behind weeks-old features Moneyball and Dolphin Tale), or we're all just jilted that Natalie Imbruglia didn't return for the Johnny English sequel. "Wishing I Was There" with her, indeed.