Happy 94th Birthday, Joan Fontaine! What's Her Greatest Screen Moment?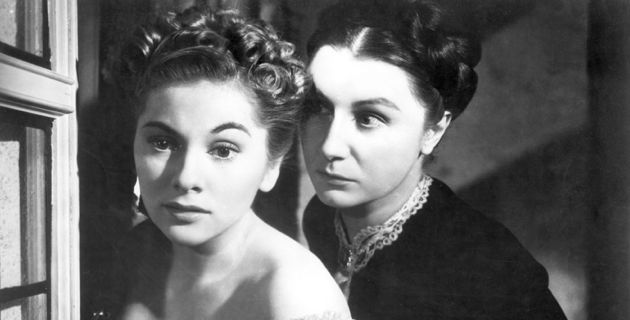 Both Joan Fontaine and her big sister Olivia de Havilland are thriving well into their nineties, and even though they still don't appear to be speaking to each other, they remain two of Hollywood's most esteemed thespians ever. (Watch de Havilland's "Melanie Remembers" interview from 2004's Gone with the Wind re-release -- just lovely!) On the occasion of Ms. Fontaine's 94th birthday, let's take a stroll into the Oscar winner's filmography and find her greatest cinematic moment.
I'm nearly crying at how much I love and have missed Rebecca. Alfred Hitchcock's 1940 Best Picture winner transcends its era and actually seems more modern than many of the director's later films. Joan Fontaine plays the unnamed "Second Mrs. De Winter," who marries the dashing Maxim (Laurence Olivier) and moves in with him at his great estate Manderley, but soon finds she is doomed to live in the shadow of his first wife. Rebecca is cast to perfection, with a lamb-like Fontaine quivering and bleating her way into our hearts, Olivier chilly as Maxim, and the legendary Dame Judith Anderson as the dour, cruel Mrs. Danvers. All three garnered Oscar nominations, but Fontaine is the true revelation as the underestimated bride.
And in case that's not enough old Hollywood magic for you, here's Fontaine's screen test for the role. She beat out Vivien Leigh, Anne Baxter, and Loretta Young -- and you can see why with this meek, yet engrossing portrayal garnered her the part.
Happy birthday, Ms. Fontaine! What's your favorite moment of hers?