Dreams Come True: Kim Kardashian to Co-Star in a Tyler Perry Movie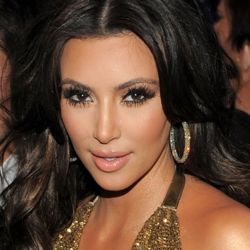 She'd only wriggled her way into small parts before, but Kim Kardashian is set to take on a sizable part in Tyler Perry's upcoming jam The Marriage Counselor. Are you screaming and applauding right now? Good. Kardashian tweeted the news last night, and already I'm psyched to watch her light up in the big screen with those shiny, ovoid, battery-operated eyes. Details on her part after the jump.
Per Deadline:
The film tells the story of Judith, an Ivy League-educated relationship expert who makes her living dispensing marital advice, but is so bored with her own marriage that she breaks her professional code and cheats with a smooth talking client only to realize she has made a huge mistake. Jurnee Smollett plays the marriage counselor and Kardashian will play Ava, a co-worker who gives Judith a big city makeover and new confidence as she struggles with her personal issues.
So, more like Why Did I Get Married 3: Why WHY WHY!. I won't judge Kardashian's thespian prowess until I see it, but I've already judged everything else about her, so that really covers it.
Kim Kardashian To Co-Star In Tyler Perry's Next Movie The Marriage Counselor [Deadline]