3 Genres Better Suited to Sarah Jessica Parker's Talents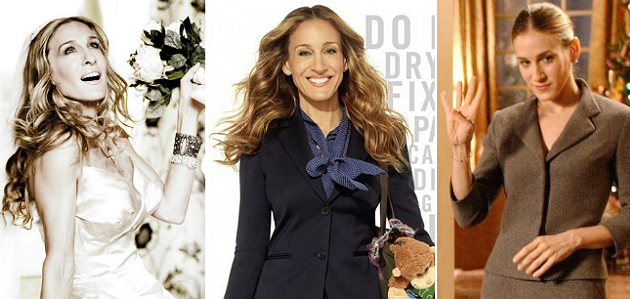 Following the failure to launch of her recent film I Don't Know How She Does It, Sarah Jessica Parker has signed on as executive producer for her newest project, in which she may star: A Fair Marriage, a film that follows a woman in a six-year marriage who "rediscovers who she is, what she is capable of and how deep her love for her family runs -- by becoming someone else." Uh-oh. This sounds like the kind of inoffensive tripe that Sarah Jessica Parker has done to death in the past five years, the quirky, but down-to-Earth romance. Since it's pretty clear that SJP could use a push in a new direction, let's suggest three genres for which she's better suited -- even if it means she's zapped in the alien apocalypse.
Truly Quirky Character Comedies
Tell me I'm not the only one who misses the vivacious, funny SJP from L.A. Story who befuddled Steve Martin with the spelling of her name: SanDeE*. In her pre-Carrie Bradshaw existence, SJP used quirkiness as a springboard for surprising, funny characters, and here she makes hilarity downright sexy without seeming forced.
Ensemble Dramas
Now hear this: The Family Stone is a terrible movie featuring a family of entitled brats that we're supposed to love, but don't. Take that, Craig T. Nelson. The only standout in this movie is SJP, who plays Dermoy Mulroney's uptight girlfriend. In the following scene, she disrupts dinner with her suggestion that no parent should wish adversity upon his/her children. The movie wants you to hate her, but all you can do is sympathize with her unfounded vilification. You'll notice she's the only level-headed, un-cruel character in the room. SJP could use more divisive, but realistic characters in her repertoire, and this genre's just the one for that niche.
Nutty Disaster Movies
As if her involvement with the Strangers With Candy movie didn't tip us off to her love of zaniness, Mars Attacks gave SJP a great forum to act doltish and loud -- in an arch, dorky format! Mars Attacks afforded its big-name actors the chance to make fun of themselves, and in 2011, SJP can use all the funny self-deprecation she can. If she refuses to make good movies anymore, the least she can do is revel in a Bad Movie We Love. Bring on the alien invasions!
· Sarah Jessica Parker plays 'Fair' [Variety]