Twilight Wedding, Smoldering Werewolf On Display in New Breaking Dawn Stills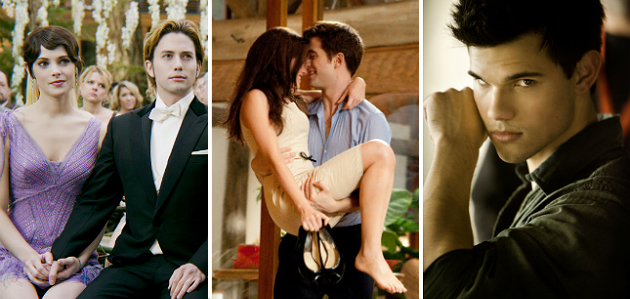 You guys: The Twilight Saga: Breaking Dawn - Part 1 is exactly one month away, which means two things: Twi-hards, rest up those vocal chords, and everyone else, stock up on earplugs. Because come November 18, the shrieking will reach a fever pitch across the land. Summit sent out a batch of new images today to stoke the fan fire, which includes looks at the wedding, the happy couple, a dreamy Taylor Lautner glamour shot ("Abduction who? Let's get back to Jacob Black," his smoldering gaze screams), and some serious lumberjack skills.
Here are a few of the new shots in high res; click images to jump into the full gallery, or head right there for the full set of new images.