The Artist Leads HIFF Award Winners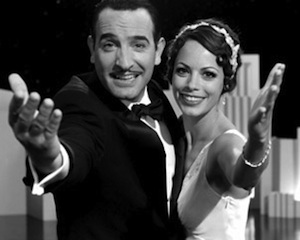 Big ups to The Artist, the Oscar-contending silent-film throwback that took home the Audience Award at this weekend's Hamptons International Film Festival. Michel Hazanavicius's film led a class that also included the superb documentarian Marc Levin and breakout stars Emily Browning, Anton Yelchin and Alexander Skarsgård. Read on for the complete list of winners; congrats to all!
2011 Hamptons International Film Festival Award Winners:
THE ARTIST
Audience Award Narrative
Directed by Michel Hazanavicius
HARD TIMES: LOST ON LONG ISLAND
Audience Award Documentary
Directed by Marc Levin
TWO'S A CROWD
Audience Award Winner for Best Short
Directed by Jim Isler and Tom Isler
THE FAIRY
Narrative Jury Winner
Dominique Abel and Fiona Gordon
LAURA
Documentary Jury Winner
Directed by Fellipe Barbosa
THE STRANGE ONES
Short Documentary Jury Winner
Directed by Christopher Radcliff and Lauren Wolkstein
WITHOUT
The Kodak Award for Best Cinematography.
The Wouter Barendrecht Pioneering Vision Award
Directed by Mark Jackson
YOU'VE BEEN TRUMPED
Winner of the Victor Rabinowitz and Joanne Grant Award for Social Justice
Director Anthony Baxter
SPECIAL JURY MENTIONS
THE FORGIVENESS OF BLOOD
Directed by Joshua Marston
VODKA FACTORY
Directed by Jerzy Sladkowski
PREVIOUSLY ANNOUNCED
SMALL, BEAUTIFULLY MOVING PARTS
The Alfred P. Sloan Foundation
Feature Film Prize
Directed by Annie Howell and Lisa Robinson
THE BULLY PROJECT
The Brizzolara Family Foundation Award for a Film of Conflict and Resolution
Directed By Lee Hirsch
2011 Breakthrough Performer Recipients
Emily Browning - SLEEPING BEAUTY
Alexander Skarsgard- MELONCHOLIA
Stine Fischer Christensen - CRACKS IN THE SHELL
Ezra Miller - ANOTHER HAPPY DAY
Shailene Woodley - THE DESCENDANTS
Anton Yelchin - LIKE CRAZY
###