Movieline's New Twitter Hero is... Ellen Barkin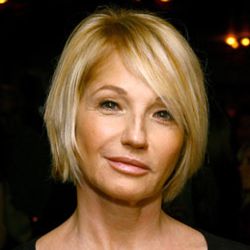 Thank your lucky stars for Twitter, because the 140-character fun machine just acquainted us with an unforeseen side of Ellen Barkin -- the trash-talkin', fast-tweetin', Bronx-lovin' "Twitta bitch." The 57-year-old Diner/Switch actress joined Twitter only a couple days ago, and she's already established herself as its new empress. If you thought Carrie Fisher was a dynamo on Twitter, you haven't seen anything yet. Dig these effin' amazing tweets.
First, here's Ellen getting comfortable with her new Twitter "frenz."
Next, she legitimizes her amazing vernacular.
Were you going to question Ellen's sex life? For shame!
In addition to her sex life, there's also no denying her Jewish pride.
Having a fabulous time yet? Ellen is!
Wait, wait: You don't think this is an impostor, do you? Naysayers be damned: @EllenBarkin is all real. (Her account is now verified.)
And last, Ellen tells us we can expect more brilliance in the future. Love her.
Ahem: Fuckin' love her.
Ellen Barkin's Twitter [@EllenBarkin]