How Julia Roberts Saved Fireflies in the Garden... and the Latest in the Snow White Wars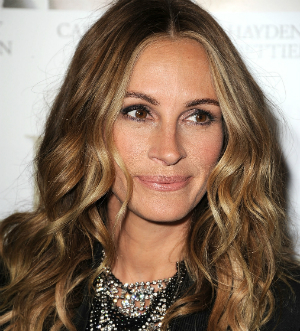 Julia Roberts shot newbie director Dennis Lee's ensemble family drama Fireflies in the Garden four years ago, but after an infamously disastrous Berlin Film Festival showing and distributor drama at Senator Films, the indie film languished for years on the shelf. Last night at their premiere in Los Angeles Lee told Movieline how Roberts saved the film from direct-to-video hell and Roberts explained why her upcoming project, Snow White, will be worth the price of admission.
"Julia is Julia," said Lee, explaining how his star came to champion Fireflies in the Garden years after it seemed a theatrical bow was no longer a possibility. "There's only one Julia Roberts, and everybody knows who she is. So to have somebody on your side who's championing your film can open a lot of doors, and a lot of opportunities to help get this film released that we would normally not have that kind of access to."
Did she make phone calls, pound on doors? "Everything. I mean, she's here on the red carpet and you don't see Julia on the red carpet often."
Roberts looked back on the experience, happy in hindsight to have helped Fireflies reach its audience. "I think it's an educational challenge in the end," she said on the red carpet. "We're here now, so I can say I'm glad we went through what we went through, and for me in my career and the way it's gone, it makes you appreciate not taking things for granted."
Lee told Movieline he was shocked when Roberts signed on to his film, about a writer (Ryan Reynolds) who returns to his Texas hometown for a family reunion, where tragedy forces him to come to terms with his unbearable father (Willem Dafoe), extended family, and his difficult childhood.
"I think it was just the script," Lee said. "Julia responded to the script, she read it and really enjoyed it. It gave her the opportunity not only to be a part of the type of film she wanted to do at the time, but also to be with her husband [cinematographer Danny Moder], who was shooting my movie."
Roberts plays Reynolds' mother Lisa (in period flashbacks and, with the aid of old age make-up, in the present), the anchor of the family and [MILD SPOILERS] the character at the center of the inciting tragedy that begins the film. "When my mother was taken away I remember asking my dad, 'Was she in pain?' Because my mother was taken away in a car accident similar to this one. And my father answered, 'No, she was happy.' He could see it in her eyes. So in the movie when Michael finds out that after all these years of suffering and of placating her intolerable husband, that his mother passed away happily, that's enough to give forgiveness." [END SPOILERS]
Was it a challenge for Roberts to balance her off-screen and on-screen families, working closely with husband Moder, whom she met on the set of The Mexican? "I think it's challenging for everybody in different ways," she said. "My challenge as a wife and mother are very different from the ones I portray in this movie, but I think for everybody it is."
I asked Lee if he saw any similarities to Tree of Life, which also filmed around Austin, Texas, employed flashbacks, and explored the experience of a man reassessing his childhood with his stern father and angelic mother. "We shot around the same area," he admitted. "Terrence Malick is awesome -- so no similarities."
Roberts will soon star in Snow White with Lily Collins and Armie Hammer. And as the Snow White wars heat up in competition with the other Snow White project, Kristen Stewart's warrior princess take Snow White and the Huntsman, Roberts gave us one reason to choose her fairytale picture: Hammer. "It was great," she beamed. "He was naked a lot in our movie, so there's a reason to buy a ticket!"