The Great Tarantino/McQueen Slave-Movie Duel, and 5 Other Stories You'll Be Talking About Today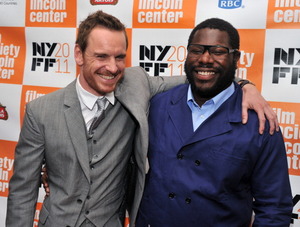 Happy Wednesday! Also in today's edition of The Broadsheet: Yet another possible Leonardo DiCaprio project surfaces... Aaron Sorkin declined Steve Jobs's invitation to write a Pixar film... Hilary Duff wants to be the next Stephenie Meyer... Occupy Wall Street's celebrity dynamic gets a closer look... and more.
· Two good turns deserve another for filmmaker Steve McQueen and his muse Michael Fassbender (pictured at right), who will follow their triumphant tandem Hunger and this fall's Shame with the drama 12 Years a Slave. Chiwetel Ejiofor is coming along for the true story of Solomon Northup, a New Yorker who was kidnapped and held in captivity in Louisiana in the mid-19th century. Sounds good, but... [Variety]
· ...Quentin Tarantino will see McQueen's Fassbender and raise him a Don Johnson. Or something: After reportedly months of arm twisting, QT has all but set Johnson for an undisclosed role in his own slave saga Django Unchianed. Two auteurist slave films in one year! Better than Snow White, I guess. Whose will reign?
[Variety]
· Leonardo DiCaprio has been linked to yet another project in early development: The Imitation Game, a biopic about Alan Turing, the, um, "English mathematician, logician, cryptanalyst, computer scientist, criminally prosecuted homosexual, and tortured soul who committed suicide by eating a cyanide-laced apple." Warner Bros. paid seven figures for Graham Moore's spec script; Ron Howard's name has reportedly come up to direct. [Deadline]
· I'm a little late to this, but still: Steve Jobs. Wanted Aaron Sorkin. To write a Pixar movie. I mean! Sorkin turned the late visionary down, alas, explaining, "The truth is I don't know how to tell those stories. I have a young kid who loves Pixar movies and she'll turn cartwheels if I tell her I'm writing one and I don't want to disappoint her by writing the only bad movie in the history of Pixar." Nuts. [The Daily Beast]
· I had no idea Hilary Duff is a novelist now. A two-time novelist, no less, utterly eager to have her supernatural young-adult potboiler pair Elixir and Devoted turned into movies. Just throwing that out there; the more you know, etc. [MTV via THR]
· "Do protestors feel celebrity support is helping or hurting their cause?" Good question for the demonstrators at Occupy Wall Street. Seriously! Good question. [EW]
· Whoops! An autopsy-room image of Michael Jackson's nude, dead body -- with his genitals blacked (ahem) out -- was briefly shown on TV Tuesday during Conrad Black's manslaughter trial. That is all. [People]
[Photo: Getty Images]