Oscar Index: Actresses Gone Wild
Another week of awards-season data, developments and all-around deconstruction result in this latest edition of Oscar Index. Movieline's bleary-eyed researchers at the Institute for the Advanced Study for Kudos Forensics have been working overtime studying the news and speculation around the awards punditocracy, observing a few major bumps here and there but a fairly steady week overall. Let's check it out.
[Click the graphs for full-size images.]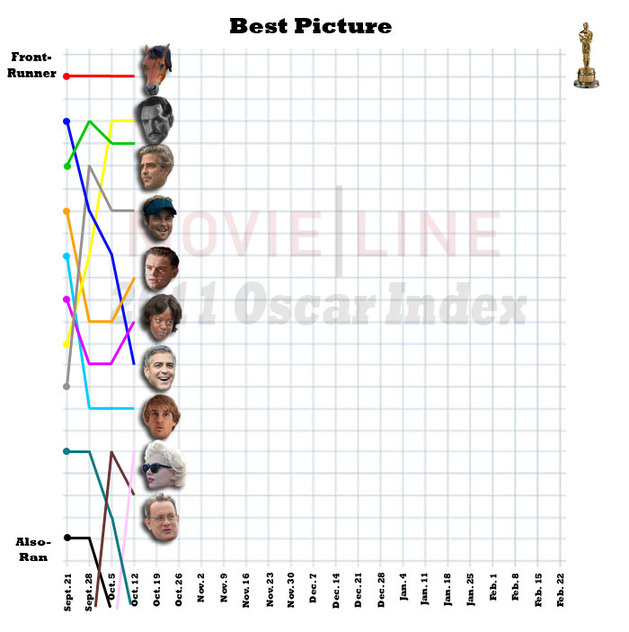 The Leading 10:
1. War Horse
2. The Artist
3. The Descendants
4. Moneyball
5. J. Edgar
6. The Help
7. The Ides of March
8. Midnight in Paris
9. My Week With Marilyn
10. Extremely Loud and Incredibly Close
Outsiders: The Girl With the Dragon Tattoo, Tinker, Tailor, Soldier, Spy; The Tree of Life, The Iron Lady
First off, for readers and commentators alike, a quick refresher as to how Oscar Index works: This feature reflects neither my own predictions nor the work I'd personally like to see recognized. This is where we parse the smartest awards speculation around the media and attempt to deduce how it will combine to influence the Academy Awards race. I bring this up in part because of misapprehensions like those of Jeffrey Wells, who seems to think War Horse's Oscar Index supremacy to date reflects the "path of least resistance" in awards prognostication. Not really! It reflects the reality that a significant majority of smart people who cover this beat professionally agree that War Horse has all the markings of a Best Picture front-runner. Is it early? Yes. Is it unfortunate? Kind of! I mean, if it were up to me, then Moneyball would lead virtually everything and I'd spend every week railing about why Kirsten Dunst should win Best Actress for Melancholia. And I'd be ready for anything at all to change my mind in the months ahead. But there are other sites for that kind of thing, and frankly, considering the insularity of the voting body this all comes down to in the end, it's futile anyway.
Yet I also bring this up in part because the current conversation around Best Picture in particular -- where the race is far from over, War Horse's profile notwithstanding -- really is kind of dreadful. The most bizarre development of the week might have been how Ides of March's soft opening prompted a fistful of rationalizations for keeping George Clooney's political drama in contention. Gregory Ellwood at Hitfix drew numerous comparisons to Michael Clayton, another Clooney effort that had a similarly soft opening in 2007 but managed enough critical word of mouth and commercial momentum to find its way to seven Oscar nods. Mark Harris at Grantland was still trying to figure out what Harvey Weinstein's emphatic, unexpected Ides endorsement last week meant. Sasha Stone at Awards Daily broke out the Broadcast Film Critics Association's excellent approval score of 92 -- which, alas, equaled that of the much more formidable Clooney contender The Descendants and was only a point higher than that of Ides's higher-earning Sony stablemate Moneyball.
This suggests to me that the punditocratic mood around Ides is defensive at best. At worst it's just filler -- something to pass the time until we finally get to see War Horse, J. Edgar, Extremely Loud and Incredibly Close and especially, especially _Girl With the Dragon Tattoo. The latter film, another Sony offering positioned to overtake Ides as a late-year priority, received a fascinating analysis from Stone; upon reading Anne Thompson's report that Dragon Tattoo and producer Scott Rudin's own awards publicist foresaw nomination potential for Director, Actress and Screenplay, Stone delivered an exhaustively researched argument for how those three categories can signal movement in Best Picture.
It's not necessarily convincing (especially not with the volume of conventional awards-bait in line ahead of it), but the moral of the story is how we distinguish genuine contenders from imminent also-rans. Even as we remain steadfast in our presumptions of what the Academy does or doesn't like, we like to reconcile those presumptions with our passions. In such empirical cases as Stone's Dragon Tattoo thesis, it suggests signs of a film's virility. In such circumstantial cases as Ellwood's Ides survey, the results can't help but suggest a slide.
And in such historical cases as Guy Lodge's gushing take this week on The Artist, it's almost easy -- almost -- to visualize the day when War Horse does trip up and fall out of the front-runner slot:
Oscar voters may frequently be unaware of their own predictability, but that's not to say they can't see the allure of a good awards-season narrative, usually with a strong underdog element. America's pluckiest sweetheart scores the biggest hit of her career in middle age and finally gets some industry respect. A starless fairytale of Indian streetkids narrowly escapes the straight-to-DVD trap and becomes the toast of Hollywood. The indie war movie with only $12 million in its pocket slays the highest-grossing blockbuster of all time.
A Best Picture win for The Artist would fit comfortably into that particular chapter of the history books: ahead of numerous bigger films from baitier names, a jazzy, joyful throwback entertainment carries the day, despite the minor obstacle of it being silent. And back-and-white. Oh, and French. As Oscar narratives go, it's a more romantic one than, say, "Hollywood's most successful director adds more honors to his mantel" (however marvelous War Horse turns out to be) or "Sturdy craftsman nobody truly adores scores fourth consecutive nod for steering the most box-ticking vehicle of the year" (however... etc).
Plus it's got Harvey Weinstein manning the campaign controls. But something interesting happened on Sunday with the New York Film Festival premiere of My Week With Marilyn, another Weinstein film: People liked it. Like, really liked it: A movie within a movie with milestone performances by both Michelle Williams and Kenneth Branagh -- playing Hollywood icons -- and unswerving respect for the romantic ordeal known as moviemaking. Sure, it has its critics, but the vibe following Sunday's premiere screening suggested a popular trajectory not so unlike that of The King's Speech -- a shot of crowd-pleasing, quasi-historical British class with Lead and Supporting acting nomination locks and plenty of room to movie in Director, Adapted Screenplay and numerous craft categories. Lodge's Artist narrative fits a little less elegantly on Marilyn, but it does fit, and if anyone's got the equipment to trim and stitch it into shape, it's Harvey.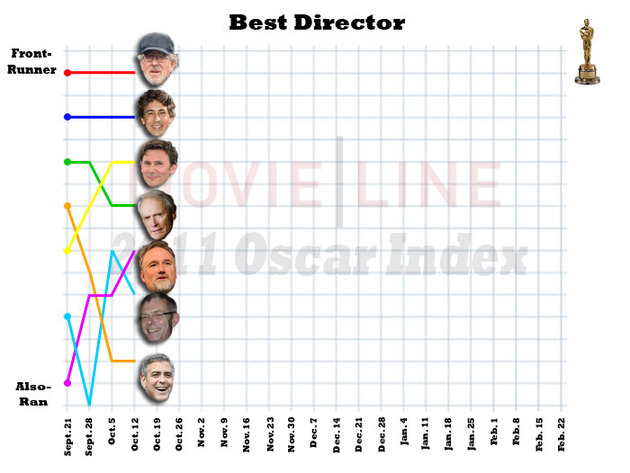 The Leading 5:
1. Steven Spielberg, War Horse
2. Alexander Payne, The Descendants
3. Michel Hazanavicius, The Artist
4. Clint Eastwood, J. Edgar
5. David Fincher, The Girl With the Dragon Tattoo
Outsiders: Stephen Daldry, Extremely Loud and Incredibly Close; George Clooney, The Ides of March; Bennett Miller, Moneyball; Woody Allen, Midnight in Paris; Tomas Alfredson, Tinker, Tailor, Soldier, Spy; Tate Taylor, The Help
I can't quite be convinced in Picture, but if Dragon Tattoo campaign consultant and inveterate awards-season whiz Cynthia Swartz says Sony wants Fincher back on the ballot come Februrary, you'd better believe that he'll be back on the ballot come February. Unless the movie absolutely blows, of course! Which, I mean, come on. No.