Ranking the Celebrity Directors of Lifetime's Five: Is Demi Moore a Budding Kathryn Bigelow?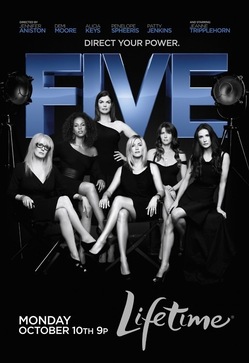 On Monday, the Lifetime Network aired Five, a quintet of interlocking cancer stories all directed by one of five famous women (Jennifer Aniston, Alicia Keys, Demi Moore, Penelope Spheeris, and Patty Jenkins), to bring attention to Breast Cancer Awareness Month. Here at Movieline, we see the two-hour special for what it really is: an opportunity to rank Jennifer Aniston against Demi Moore and see who comes out on top. Which lady director handled her sensitive material best? Did Aniston topple established veterans Spheeris and Jenkins? Does G.I. Jane prevail? Doesn't she always? Let's rank them No. 5 to No. 1 after the jump.
5. Penelope Spheeris, "Cheyanne"
The Wayne's World vet clocked in at last place with her short "Cheyanne," a stilted tale about a stripper (Nikita's Lyndsy Fronseca) whose diagnosis freaks out her tough-guy boyfriend (Taylor Kinney) enough to trigger a breakdown while he's beating up a slimeball (Sex and the City's David Eigenberg). The dialogue is pure After School Special hyperventilation -- "Go on, bash my head in!" declares Kinney in a fit of UFC rage -- but the direction isn't much better. We're treated to awkward fights, weird pacing, and overblown performances from Kinney and Eigenberg. This melodrama would not play well at the Waynestock Film Festival.
4. Demi Moore, "Charlotte"
Not bad, Demi, not bad: "Charlotte" concerns a precocious daughter named Pearl whose annoying family won't allow her into her dying mother's bedroom because the little scamp is too young to understand cancer, life, etc. -- or so her elders think. The story takes place during the summer of 1969, so Pearl sneaks into her mom's quarters while her family is distracted watching Neil Armstrong and Buzz Aldrin sneak onto the moon. There's not enough story here to warrant a 20-minute treatment (and God, is it boring watching Annie Potts, as Pearl's grandmother, shoo her away from the bedroom door again and again), but Moore shoots the story from Pearl's perspective and successfully conveys the skeptical wonderment of its young subject. Could've done without the Family Stone/Pottery Barn cinematography, though.
3. Patty Jenkins, "Pearl"
The connective thread of these five stories is Pearl, who grows up to be an oncologist played with soft-stare empathy by Jeanne Tripplehorn. She's a minor part in most of the shorts, but in the fifth story directed by Patty Jenkins, Pearl's own battle with breast cancer comes to the fore. Tripplehorn is fine as a woman whose professional passion gives way to personal anguish, and even if her story isn't as distinct or bleak as the others, she's a comforting presence on screen. Jenkins handles her plight with unadorned reverence, and the exchange between a coping Tripplehorn and her doctor (Bob Newhart!) is utterly believable. Time for another sitcom, Bob.
2. Alicia Keys, "Lili"
Who would've guessed that the perpetrator of cliched pop jams like "No One" and "If I Ain't Got You" could bring out such vibrancy and humor in her actors? In Keys' short "Lili," Rosario Dawson stars as an I Don't Know How She Does It-level careerist whose diagnosis brings out the feistiness in her overprotective mother (Jenifer Lewis) and faithful sister (Tracee Ellis Ross). Let's rack up the merits here: Lewis is damn fun, Dawson and Ross emit true sisterly angst, and Keys gets out of the way of the story's simple message. This is a song in A minus, Ms. Keys.
1. Jennifer Aniston, "Mia"
All hail Rachel Green: In Aniston's four-scene vignette "Mia" starring the indefatigable Patricia Clarkson as a woman who treats her cancer diagnosis as a death sentence and opts to be candid with her fair-weather friends, we witness everything we need to confirm Aniston's directorial talent: fabulous conversation scenes between Clarkson and her new husband (Tony Shalhoub), wonderful comic timing during the lighthearted moments, and surprising depth from one-dimensional supporting roles (Kathy Najimy is great as Clarkson's best confidant). Though Clarkson's spirited and honest performance as Mia gives this trifle gravitas, Aniston frames her chutzpah without any pretentious or cloying tricks. It's fun and strong. Makes you wish Aniston had controlled the lens for her last three movies.
Lifetime's 'Five' [Lifetime]