Twit Wit: The 5 Best Tweets About Real Steel and Ides of March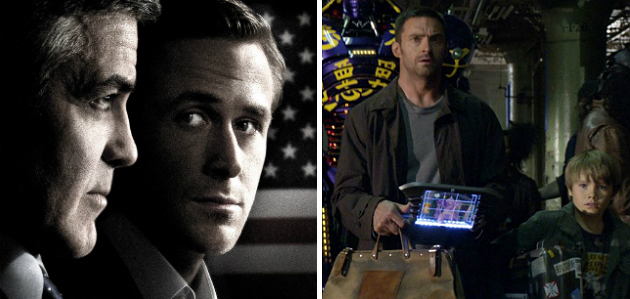 You might've realized it by now, but Real Steel is a ridiculous premise for a movie. So ridiculous it worked, in fact. Twitter blew up this weekend with comments about Hugh Jackman's and the sweet science of robo-jousting, and Ryan Gosling's effectiveness in The Ides of March. We tally the best five tweets after the jump.
5. Ryan Seacrest has a very strong, near-flirtatious plug for his friend Hugh's new movie. I'm sure Mr. Jackman appreciates the endorsement from an actual robot.
4. Office star Mindy Kaling ignored the towering presence of Real Steel, saw The Ides of March, and turned into a movie critic afterward.
3. Last week's Twit Wit champion Ken Jennings clocks in at #3 today, this time rhapsodizing the pugilistic strengths of Mr. Hugh Jackman.
2. Conan O'Brien is also a real human being and a real hero -- which is downright suspicious, he suggests.
1. Modern Family writer/producer Danny Zuker rips apart Real Steel in one incisive tweet. Rosie Huntington-Whiteley looks on robotically.