In Honor of Shirley MacLaine's AFI Life Achievement Award, Let's Revisit Her 5 Best Onscreen Quotes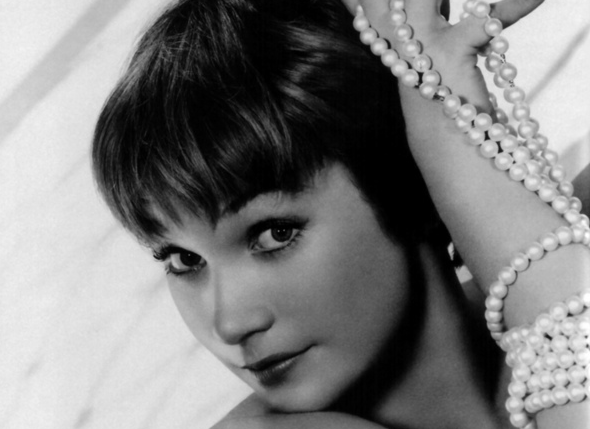 The American Film Institute has selected Shirley MacLaine, the candid Hollywood legend and memorable Oscar speechifier, to receive their 40th Life Achievement Award. Hooray! Problem is, they're only honoring her current lifetime. Her other 18 or 19 lifetimes were failures, I guess -- but still, she's had a pretty good career on the big screen. Shall we take a walk through her finest quotes in film?
The Trouble With Harry: "Harry. Thank providence, the last of Harry."
MacLaine claims she was clueless when auditioning for and debuting in Alfred Hitchcock's 1955 black comedy The Trouble With Harry, but her deadpan delivery was just right for the role. Her straightforward reaction to the discovery of a dead body is a moment of understated genius in the Hitchcock oeuvre.
The Apartment: "Shut up and deal."
Deadpan rides again as Jack Lemmon, exuberant after a tough couple of hours in The Apartment, tells Shirley MacLaine's character Fran Kubelik, "I absolutely adore you!" before a game of gin rummy. She responds with the movie's classic final line, and the message is clear: These downtrodden people have one of the most realistic romances in cinema.
The Turning Point: "You keep your goddamn hands off my daughter!"
Pardon the sketchy quality of this clip, but the payoff is well worth it. In 1977, The Turning Point became the first movie to be nominated for 11 Academy Awards and win none. Both MacLaine and Anne Bancroft picked up Best Actress noms, and you can see why here. These old ballerinas are destroying each other with evil quips! Mrs. Robinson vs. Mrs. Winterbourne, round one!
Terms of Endearment: "Give my daughter the shot!"
Man, Shirley is good at hysterically defending her daughters. In this unforgettable moment from Terms of Endearment, a movie that does not hold up as well as you hope, MacLaine delivers the most urgent and personal moment in the movie. (Sorry, Deb Winer.) The desk-pounding is an Oscar clincher!
Steel Magnolias: "Are you high, Clairee?!"
Sally Field tears up the screen in a mournful rage after her daughter -- a delicate young Julia Roberts -- dies, but then Olympia Dukakis saves the day by offering up Shirley MacLaine as a punching bag. Knockout performances from everyone involved, and even Darryl Hannah gets a great moment in. It's befuddled Shirley whose incredulity steals the show, though.