50 Years Later, Has Any Movie Pinpointed Teenage Obsession Like Splendor in the Grass?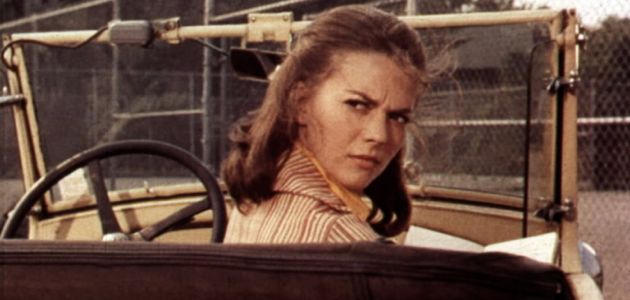 Splendor in the Grass, Elia Kazan's ode to teenage angst and adolescent obsession, turns 50 this Monday. The golden anniversary of William Inge's torrid screenplay may not seem like a big deal to you, but if you haven't seen Splendor in the Grass (which was a box office sensation in '61), you've missed out on three important film moments: 1) the performance of Natalie Wood's career; 2) the debut of a young buck named Warren Beatty; and 3) a level of teenage hysteria that is both extreme and extremely moving.
Let's reinspect the plight of young lovers Deanie (Wood) and Bud (Beatty), who have a passionate, but problematic bond in the 1920s. They don't quite see eye to eye on sex, Bud's a verbally abusive, well-to-do football star, and Deanie's an asthmatic teenybopper unprepared for the pangs of love.
In this clip from early in the film, we watch the bond growing between the two. But then, at the 7:55 mark, Bud's maniacal sexuality tears to the fore. If his cavalier use of the word "slave" wasn't chilling enough, Deanie's soft-spoken followup is downright eerie.
Now, here's Natalie Wood as you've never seen her before (if you've never seen this movie, that is): jilted, crazed, and nearly possessed. Deanie's mother (Audrey Christie) doesn't understand her downward spiral, and Deanie's not afraid to terrify her for it.
Here's more of that breakdown, because it's just so fabulous to watch. Yep, that's Oscar- winner Sandy Dennis debuting as Deanie's friend Kay in the dance scene.
Finally, the movie's conclusion -- after Deanie has spent years in a mental institution -- is a powerful and surprisingly subtle final note. Deanie meets up again with Bud, who is now married, and tells him that she, too, will be married to a Cincinnati man she met in the asylum. They decide they have to live their lives separately. Difficult! And real!
Do you love Splendor in the Grass? Do you forgive its somewhat sedate second half? And isn't Natalie Wood divine?