Video: Cary Elwes, Robin Wright, Billy Crystal and More Reminisce During Princess Bride Reunion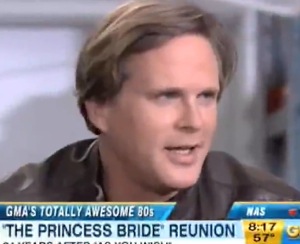 If you've been staying with your grandparents this week or your job involves caring for the elderly, then you've probably already realized that Good Morning America has been hosting a Totally Awesome '80s series where anchor Robin Roberts reenacts E.T. scenes in front of a green screen. (I wish I was kidding.) Anyway, that's happening. And as part of this series, ABC hosted a cool reunion for the cast of Princess Bride 25 years after the film's release. Take a look below.
Among the cast members that turned out to celebrate the Rob Reiner fairy tale classic: Cary Elwes, Robin Wright, Chris Sarandon, Wallace Shawn, Billy Crystal and Carol Kane. The topics discussed: Bill Clinton's surprising fondness for the movie, the cast's interactions with fans all of these years later and the epic kiss between Westley and Buttercup. The topics not discussed: Billy Crystal's decision to appear in partial costume. Enjoy!
· 'Princess Bride' Cast Has a Fairy Tale Reunion [NextMovie]