Tom Six on The Human Centipede II and What's In Store for His American-Set Trilogy Ender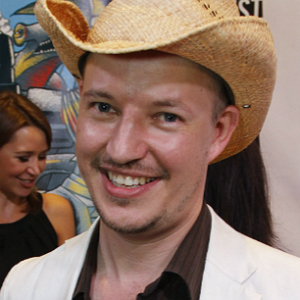 Dutch filmmaker Tom Six cut a striking figure last month at Fantastic Fest, where he appeared -- ever-smiling and clad head to toe in a pristine white suit, his outfit of choice -- to world premiere his squirm-inducing body horror sequel, The Human Centipede II (Full Sequence). The following day Movieline spoke with Six about the film, in which he meets the challenge of one-upping himself in the escalation of extremes in gory, grotesque detail. Upon hearing that an audience member fainted the previous night, Six professed his sympathy. He was sorry to hear it, he said with a grin. Well, maybe not completely sorry.
In person, the ebullient Six is rather cheerful for a guy who spends all his time dreaming up new ways to up the ante in a genre that's already seen the heights of "torture porn" come and go. He's already set to complete his Human Centipede trilogy, in which unfortunates so far in two countries and two films have discovered the hard way what happens when sick individuals decide to play god by stitching people together, end to end. His next and final Human Centipede target is America, which should be interesting; Six says he loves the United States -- but he also counts Borat and the works of Lars von Trier among his favorite influencers.
Read on and get to know Six, his artistic intentions with the Human Centipede trilogy, where he draws the line of good taste, why he doesn't seem to mind distributor edits to his director's cut of The Human Centipede II, and more. (Some spoilers follow.)
So, your movie world premiered last night.
Yes.
I presume by now you've heard what the audience reaction was like?
I was there, and I got the first reactions from the audience. They were all numb, coming out. Like, 'Oh my God.'
Are you aware that a woman fainted towards the end of the film?
Yeah! I heard.
I was sitting next to her.
That's incredible, huh?
I missed your Q&A because I was calling an ambulance for her.
Oh no! I heard from people that two more people were [incapacitated].
But people have had violent, physical reactions to your work before. How much do you expect this kind of extreme reaction -- and does it please you to hear when people do have them?
Secretly it pleases me -- of course, as long as people don't get really hurt. But when I was making this film, when you make a film and write it and edit it, you are so busy with the material you forget how nasty it is. So for me, when people have reactions to what they see it's very hard for me to think, 'Oh, it is really gruesome.' Because I've seen it so many times.
You're desensitized to it, then.
I am. I am, definitely.
The woman who fainted next to me said that the best part about her ordeal was that it reminded her she was human.
Wow. That's powerful stuff!
Nonetheless, the things you put onscreen are so extreme, so viscerally stomach-churning...
Yes, but I think that's the core of filmmaking. If you make a great comedy and you're laughing your ass of and you're really hurt from the laughing -- I love that. If a film in any way does that with you, that you're really fucked up or you have a strong emotion, then it works I think. Because it's terrible if you see a film and you don't care.
True. But do you think there's such a thing as going too far?
No, not in my world. I hate animal cruelty so I would never do anything with that in any of my films, but in my opinion it's film, it's make-believe, it's art. It's actors coming in, and we have lots of fun on the set. How can it go too far, then?
Out of curiosity, what was your approximate bodily fluid budget on this movie?
Oh, they brought in so much of the stuff. My sister Ilona [Six] does all the budgets so I don't really care about them.
The set must have been...
Oh, it was a mess. And for the actors to lie in all the stuff, it was horrendous for them! They went home covered in all sorts of things.
I don't know how to describe this, exactly, but the moment when everyone in the centipede begins... let's just say, the projectile scene.
Yeah! That was a cool effect, eh? They put this little machine, like a blowing machine, between the legs of the actors and it [makes exploding sound] splatters on the wall. It's all fun, and the actors think the same thing. Everybody was laughing all the time.
The Human Centipede II follows the first film by building on it in an overtly self-referential way. Was this always the approach you knew you'd take back when you first conceived of the first film and possible sequels?
Oh yeah, definitely. I had so many ideas when I was writing Part One and I couldn't put them all in Part One, of course, so I wanted the audience to get used to this crazy idea first. That's why it's all psychological. And I knew the sequel had to have everything there. The blood, shit, gore -- everything. So that's why I tell the audience that part one is My Little Pony compared to part two.
And that's pretty accurate. I have to say, I didn't believe a lot of those quotes you gave before I saw the film. I thought you were just hyping it up, but the sequel really is that much more extreme. So how can you possibly go any further in a third Human Centipede?
I can because every film is different. Part One is so very different from Part Two, and I'm sure people find the psychological horror maybe more disturbing than seeing it on the screen. So with Part Three I go in a totally different direction again, and there are some scenes that I think are worse than Part Two -- but in a whole different way! So it's up to the viewer if it's worse or whatever.
[SPOILERS] Which scene do you actually consider the worst, hardest to watch moment in The Human Centipede II?
For me, the rape scene. Then you get really uncomfortable. [END SPOILERS]
That's actually the last scene the woman who was sitting next to me remembered. And the scene goes on for quite a long time, which is part of the reason why it's so unsettling -- there's nothing else on screen. There's no escaping it.
There's nothing else. I knew it'd be so powerful because on set, people were crying. My script girl... real tears. They couldn't handle it. The sound guy had to leave because it was too intense. But the actors who played it, they loved to play it. That's the contradiction; they were really happy to play that scene, but they made other people cry. And I was jumping with joy, of course, because I knew--
That it worked.
Yes! It was working.
On the subject of your director's cut being edited for certain audiences, it seemed ridiculous for the U.K. to ban the film outright. [An 18-certification was granted this week.] But in America your distributor, IFC, is also editing down the film to remove the most difficult parts.
Yes.
How are you not bothered by that?
Of course I want the audience to see my film. As a filmmaker, you make a film in the way you want to show it to the audience, but there are of course political things going on with cinemas, and other people are involved. Some things are maybe not legal or whatever, I don't know about that. But I want my film to get out there, in any way it can. And they'll do a director's cut on DVD.
So the trade-off is okay with you.
Yeah, sure. Definitely. And people have the choice; there's a version with some extreme things taken out, and I think it's only a few minutes they had to take out. People can see almost all of it. But maybe it's a good thing that some people are missing [said scenes].
Have you encountered any fans of The Human Centipede as obsessed with it or you as much as your Human Centipede II villain, Martin?
Oh, you meet very colorful persons. I once had a lady sew three Barbie dolls together and she gave it to me -- and she gave it to me without smiling. Very serious. Then you think, 'Hmmm...'
Pages: 1 2