Exclusive: Lord of the Rings, Dark Tower and More Rare Looks at Poster Genius Drew Struzan's Oeuvre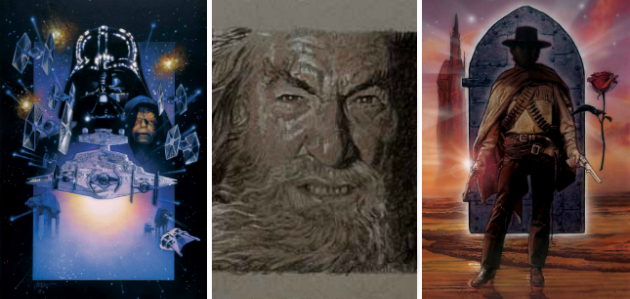 As a fledgling artist in his teens, Drew Struzan took to illustrating movie posters to make a living; decades later, his work in the world of visual film art has become not only iconic, but a part of the way we celebrate many modern cinema classics of the past few decades. This month's release Drew Struzan: Oeuvre collects more than 250 pieces of Struzan's art from films including Star Wars: Episode V -- The Empire Strikes Back, Star Trek, and Lord of the Rings, and Movieline has a special exclusive preview of rare pieces from the forthcoming book.
Drew Struzan: Oeuvre, in hardcover with a foreword by George Lucas, also includes selections of the artist's more recent work ranging from Pan's Labyrinth to Cowboys & Aliens to The Walking Dead, along with "record album, book, and comic book covers, to stamps, trading cards, promotional artwork and very personal original works." The book is written by Struzan and wife Dylan and retails for $49.95.
Movieline's exclusive gallery holds a few special treats, among them a look at Struzan's Empire Strikes Back re-release special edition poster. Click here to launch our gallery of exclusive images.
[Pictured: Star Wars: Episode V - The Empire Strikes Back (Special Edition) ™ & © 1997 Lucasfilm Ltd. All rights reserved. Used under authorization; The Lord of the Rings Masterpieces (1) © Copyright Drew Struzan 2006; The Dark Tower © Copyright Drew Struzan 2007]