Can Dane Cook Be Taken Seriously as a Dramatic Actor?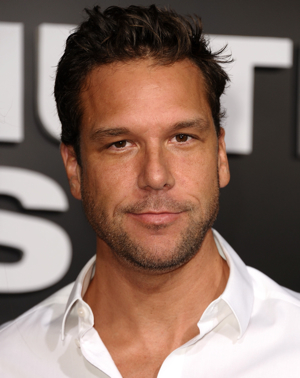 I don't know how in touch you are with Dane Cook's film career, but this December, the comedian-turned-actor stars in a kidnapping drama called Answers to Nothing. As a philandering husband whose wife is determined to get pregnant in spite of his infidelities, the leading role -- which appears to be completely (and purposefully) humorless in the trailer -- could be a step in a new direction for the 39-year-old stand-up. But can Dane Cook even be taken seriously as a dramatic actor at this point in his career?
First, a little background: Shortly before "breaking big" as a comedian on Comedy Central's Premium Blend, it is worth noting that the Boston-born multi-talent (a descriptor that detractors might reject) earned his first two film credits in dramas. They weren't Shakespeare adaptations -- they were the awful Ashley Judd-Patrick Dempsey bank robbery flick Flypaper and the Jim Henson family movie Buddy (where Cook played "Fair Cop") -- but dramas nonetheless.
As his stand-up career picked up, Cook graduated from more iffy projects -- like espionage thrillers starring Dennis Rodman (Simon Sez!) -- to legitimate comedies like Stuck on You, Mr. 3000 and his first leading role in the Jessica Simpson project Employee of the Month. But the actor, wanting to flex a different muscle and jump genres like comedians Bill Murray, Jim Carrey and Robin Williams had done successfully before him, signed onto a few roles that would actually garner Cook some critical attention for his dramatic work.
The first such endeavor was a turn in the 2007 Kevin Costner thriller Mr. Brooks. As a serial killer wannabe who blackmails the film's title killer (Costner) into taking him along on his next murder, Cook was serviceable as Costner's nervous protege who ends up compromising a crime scene and ultimately [spoiler!] meeting his own demise (below). But when your dramatic breakout role is part of a total flop, the people that do see your movie don't care much about the efforts of bit players like Cook. Although, Movieline's own Stephanie Zacharek did note that "Cook has all the charisma of a misshapen mud pie, although, sadly, even this schlep of a performance is probably an improvement on his stand-up routine."
Next up on Cook's dramatic resume is Dan in Real Life, where the comedian played Mitch, Dan's (Steve Carell) onscreen brother who happens to be dating the woman of his dreams (Juliette Binoche). Because Cook's sole mention in Roger Ebert's review of the film was "Also on hand is Dan's brother Mitch (Dane Cook)" -- I think we can all call this an improvement over his work in Mr. Brooks!
Now, Cook has landed a leading dramatic role in the upcoming Answers to Nothing from writer/director Matthew Leutwyler (Dead & Breakfast). If it fails critically, the blame will fall more heavily on his shoulders, and if it doesn't, we may have a new Bill Murray on our hands. Judging by the following trailer -- which intertwines the lives of characters played by Elizabeth Mitchell, Julie Benz and Zach Gilford against a kidnapping case backdrop -- that will not happen. But hey, the last actor Barbara Hershey mothered onscreen won an Oscar and Hershey mothers Cook onscreen here. So, by the transitive casting property, maybe this could be the Academy Award-winning role that we've wanted for Dane Cook all along.
Or maybe this will just be the poor man's Crash meets Mystic River. Either way, audiences will see Dane Cook in the most serious role of his career come December 2 and decide whether it's time to accept the comedian as a dramatic actor -- or whether it's even time to accept the comedian as an actor at all.
His work spoiling people's food with saliva and inappropriate hairs in the 2005 gross-out comedy Waiting might prove otherwise.