The Most Sensitive and Insightful Review of 50/50 You'll Read By a Guy Talking Like the Incredible Hulk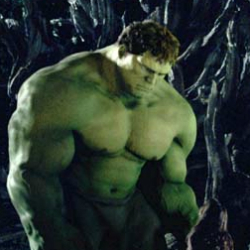 If you haven't joined the cult of Film Crit Hulk, the anonymous blogger who writes astoundingly observed film musings in the character and voice of The Incredible Hulk, now's as good a time as any to start reading with his recent post on Jonathan Levine and Will Reiser's cancer dramedy 50/50.
Film Crit Hulk writes longform in a third person, all-caps "Hulkspeak" that belies the laser-like analyses he makes in blogging about films, from his perfect 7,000-word treatise on the abominable Eat, Pray, Love to a recent three-part deconstruction of action cinema with cinematographer Tom Townend (Attack the Block).
While some argue that he should drop the Hulk schtick and write a straight film blog, it's kind of brilliant how the affected lingo lends his insights an unexpectedly jarring clarity. There's a beauty in Film Crit Hulk's work, and though he eases up on the vernacular in his 50/50 post (which itself is deeply personal yet doesn't tarnish his argument by oversharing), it's one of his most sensitive pieces yet.
An excerpt:
CANCER IS ONE OF THOSE THINGS THAT HAS SEEMINGLY TOUCHED EVERYONE. YOU'VE PROBABLY HAD SOME LEVEL OF PROXIMITY TO IT. IF YOU HAVEN'T? WELL, HULK'S NOT RELIGIOUS OR ANYTHING BUT COUNT YOUR DARN BLESSINGS. THAT'S BECAUSE SOME OF US HAVE GOTTEN THE FRONT-ROW SEAT. SOME OF US HAVE EVEN HAD IT... AND SOME OF US HAVE HAD IT ALONG WITH MOST EVERYONE ELSE IN OUR FAMILIES (HOW TO PUT THIS? GAMMA RADIATION IS A BITCH)...

DISEASE DOES NOT GET YOU TO SEE "LIFE" BUT REALLY THE JUST ORDINARY NATURE OF "YOUR LIFE." AND THAT'S WHY EVERYONE AROUND YOU FREAKS OUT SO BADLY, BECAUSE IT MAKES THEM SEE HOW IT'S ALL JUST SO IMPOSSIBLY REGULAR: CANCER/DISEASE IS SOMETHING HORRIBLE YOU HAVE TO LIVE WITH UNTIL YOU POSSIBLY DIE FROM IT... AND THAT'S IT.

50/50 IS THE FIRST MOVIE HULK'S EVER SEEN THAT UNDERSTANDS AND CONVEYS THAT.

AND THAT IS WHY THE FILM IS TRANSCENDENT.
Read the full post here.