Talkback: Seriously, Who Asked For a Mister Ed Movie?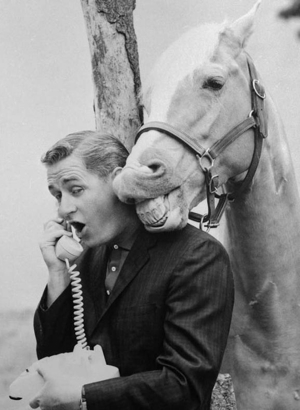 Guys, it is really time that we sit down and have a long, hard discussion. I don't know which of you keeps suggesting that we continually adapt and remake the beloved TV series and films of our youth but it has got to stop... especially after hearing today's announcement that Fox 2000 is reviving the '60s talking horse series Mister Ed for the big screen.
First, the facts: On the heels (or hooves) of Fox 2000's other horse feature Flicka, the studio has picked up the rights to the Walter R. Brooks sitcom, which aired originally from 1961 to 1966. While Fox hasn't selected a writer or director, they do know that a live horse will be used and made to talk with the help of CGI technology. The project was brought to Fox by David Friendly and Jim Mahoney, who have spent a few years securing the rights to the television series from different estates.
I understand that there is an entire generation that has probably never heard of Mister Ed and thinks that the first talking animal was Babe. I get that in some ways, Mister Ed: The Movie will bridge a generational gap, and provide a welcome nostalgia rush for some of Ed's original audience. I know that talking animal movies and cute animal movies in general are easy bank. (In the past two years alone, Kung Fu Panda 2 grossed over $662 million, Alvin and the Chipmunks: The Squeakquel took in over $443 million and Bolt made $314 million.) Finally, I realize that beloved entities such as Mister Ed have a built-in audience. I get that at all, but if we keep greenlighting adaptations, who will be motivated to conceive a new original television series or film, that thirty, forty or fifty years down the line, Hollywood can egregiously remake?
What do you think? Is Mister Ed one remake that actually excites you? Would you buy a ticket if Clint Eastwood makes a cameo (as he did in the original series below)?
· Fox 2000 Bringing 'Mr. Ed' to the Big Screen [THR]