Real Life Quarterback Princess Wins Football Game, Homecoming Crown in Same Night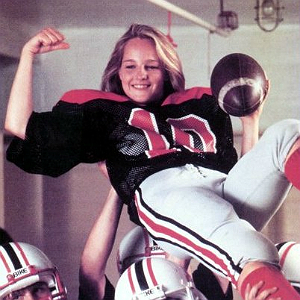 Back in 1983, a young Helen Hunt starred in the CBS telefilm Quarterback Princess, the true story of a plucky Oregonian teenager named Tami Maida who made it onto her high school's all-male football team and nabbed the homecoming queen crown, marking a triumphant moment for female athletes. Last week, Brianna Amat of Pinckney, Michigan did the same; after being crowned at halftime during homecoming, the 18-year-old returned to the field to win the game for her team.
Technically, Amat is a kicker and not the quarterback for the Pinckney Pirates, but still; as a tomboy of the '80s I adored and watched Quarterback Princess so many times, I'll always root for any girl who wants to play with the boys. (Also see: Little Giants, Necessary Roughness, and Backfield in Motion for the same, albeit with varied results.)
From the New York Times:
When she arrived, she was told that her fellow students had voted her queen. When the tiara was placed on her head, she was wearing not a dress, like the other girls in the homecoming court, but her No. 12 uniform, pads and all.

A short while later, with five minutes to play in the third quarter, Amat was called to the same field to attempt a 31-yard field goal. She split the uprights.

The kick proved decisive as Pinckney held on for a 9-7 victory against a Grand Blanc team that had come into the game ranked seventh in the state in its division. It also earned Amat the nickname the Kicking Queen.
As for Quarterback Princess (which co-starred a young Daphne Zuniga in her second screen role and was directed by Noel Black, who also made the Phoebe Cates '80s flick Private School and the soap teen series Swan's Crossing), trailer and clips are apparently nowhere to be found online. So just trust me; it was a great, rousing picture. Helen Hunt gets a pass for life just for being a part of it.
• The Kicking Queen [NYT]