Juno Temple on Dirty Girl, Very Busy Schedules and Dark Knight Rises Silence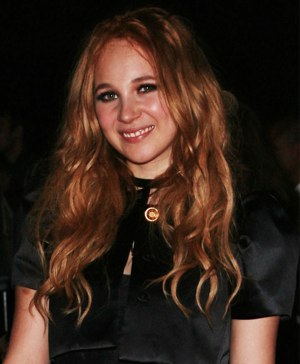 And you thought Jessica Chastain was having a busy year. Check out the resume of Juno Temple, the 22-year-old British actress whose early roles in such films as Notes on a Scandal and Atonement have given way to a 2011 comprising work on movies from The Dark Knight Rises to The Three Musketeers to this week's quirky indie dramedy Dirty Girl.
Temple stars as Danielle, a debauched 1987-era Norman, Okla., high schooler with a bit of a chip on her shoulder. She's never met her father, her mother (Milla Jovovich) is about the marry a Mormon busybody (William H. Macy), and her licentious behavior has just gotten her partnered up with gay, chubby outcast Clarke (Jeremy Dozier) in the special-education class. One chance discovery and one stolen car later, the duo strike off for California in search of lost family and a better life. They find both, but not nearly the way either of them expected.
The film, written and directed by Abe Sylvia, was one of the major stories of the 2010 Toronto Film Festival, landing a Weinstein Company distribution deal worth a reported $3 million. Dirty Girl has been in hiding since, but Temple hasn't: The daughter of filmmaker Julien Temple and producer Amanda Temple recently completed shooting her part in Christopher Nolan's hyper-anticipated Bat-franchise finale, and has no fewer than five other films in various stages of completion or development, including director William Friedkin's recent Toronto premiere Killer Joe, her Michael Cera/Emily Browning collaboration Magic, Magic, the long-delayed lesbian lycanthrope effort Jack and Diane, The Brass Teapot, Small Apartments, and A Single Shot. Yet despite it all, Temple managed today to sneak in a word with Movieline.
So! What's been going on?
What's been going on... Just doing crazy press right now. I went to San Francisco a couple of days ago to show the movie there. That was a trip; we had an amazing time showing it at the Castro Theater. They loved it, so that was cool.
Seems that might be a key demographic.
It was pretty well-received. That was one of the coolest experiences I've had in a while. Then I'm doing this movie tonight, and I go to Paris for a few days. Then I go to back to L.A. I just wrapped a movie a few weeks ago, so it's nice to have a little relax time. I have a bunch of press to do, then some relax time, and hopefully I do another movie in November.
What did you just wrap?
It's called The Brass Teapot. It's about this young, very sweet, very in-love couple, but they have nothing going for them. They have no money, they're pissed, they're annoyed. Especially my character. She's a bit like Nicole Kidman in To Die For-- that kind of uptight woman who wants everybody to be talking about her and wants everything to be perfect. Then one day she finds this magical brass teapot that, when you inflict pain, spews out money. So as you can imagine, she and her husband start going a little crazy with that. It doesn't make them happy, which is the moral of the whole story. Money doesn't make you happy.
How do you decide what films you want to approach, and how do you go after them?
For me, when I read a script, I want to challenged. I definitely want to be challenged. I also want to connect with the character in a certain way. But it's really so much about the director for me. I have to be able to wholeheartedly trust my director and let the walls down and just go for it and be absolutely fearless. You have the freedom if you trust someone like that. It's like having a family member, and you just forget being you, and you just dive into whatever situation you get put into. You know that the director is going to be there to give you a hug if you need it, or pat you on the back, or kick you in the butt. I think that's really important. So having an audition with a director or even dinner with a director, you sit down and really get to know that person and you figure out how that's going to be. Sometimes that doesn't feel right, but most of the time, if the project is something you absolutely adore, then you're going to find a way to get on with the person. That's what I've from experience, anyway. The director is very important to me.
And while you're young, you're kind of a veteran at this point, right?
Since I was like 16, yeah.
So you've got the instincts down, obviously, but how much of this process still feels like a learning process?
Oh, it's all the time. I'm learning all the time. That what I love. I'm like a sponge. Knowledge is the key to life! You should be a sponge. With someone like Jeremy, this is his first movie, so I've got stuff to give, sure. But then I'm working with Milla Jovovich and William H. Macy and Tim McGraw and all these people who are older and wiser and who've live a lot longer than I have and have a lot more movies. So I'm learning from them. It's a chain of events. You can never not learn when you're on a movie set, I don't think.
Why did you want to act in the first place?
Why? OK, I was 4 years old. It was L.A. -- my parents lived in L.A. -- and I was sitting on the couch. They had this great striped couch in the living room. My dad had a laser-disc machine. I remember the dress I was wearing, too: This little short, bright blue corduroy dress with red trim, buttoned up the front. I was wearing that. And my dad put on La Belle et la Bête by Jean Cocteau. And I legitimately had my mind blown. I was in love with the beast. I wanted to be Belle more than I know how to put into words -- still to this day, and I'm 22. I wanted to do that -- anything I could do to make that stuff happen. So I started doing plays. I was always in fancy dress. It just became something I was obsessed with. I've always had a crazy, vivid imagination.
My parents weren't surprised when I finally told them. They weren't stoked to begin with, and they were nervous for me. But after I showed them that I was going to fight to do this, they were so proud. It was really cool.
You've said you were "desperate" to play Danielle once you read the script for Dirty Girl.
Completely.
What provoked that reaction in you?
I just read the script, and it was this challenge of this young girl who is so misunderstood. You read her, and you're like, "Damn, this girl is screaming to be put into the universe." She needs to be seen by people, because she is a positive example of someone who is who she is. She kind of gets off in the beginning on the fact that she is quite intimidating, and boys talk about boning her or whatever, and girls talk about how inappropriate she is. I think she kind of enjoys that, but I think she is lonely, because she's kind of got herself caught up in a catch-22, you know? And then she meets this unlikely character who comes into her life who I don't think she ever thought she would become friends with. And he just becomes her guardian angel, and they have the most extraordinary friendship. And friends are the most important thing in the world. When you find a good one, you shouldn't let go of it. I think it's a great example of how wonderful friendship really is for people. These two misunderstood characters come together and just blossom. I'm so someone you lives by the motto, "Don't judge a book by its cover." You're just going to miss out on a lot of things. You'd be a fool to do that.
Pages: 1 2