Weekend Receipts: 50/50's the Strongest Newcomer in a Dolphin-Safe Weekend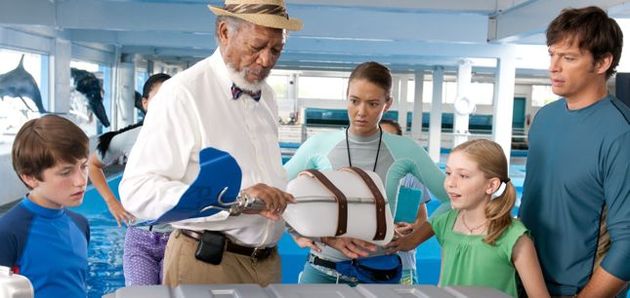 Last week's box office roundup featured three movies that garnered $20 million, which makes this week's tally feel like an unassuming, but pleasant showing. Yes, Moneyball and Dolphin Tale are still garnering identical figures at the top of the leaderboard, but 50/50 earned back its whole budget in just its first three days at the multiplex. If Contagion stirred up a moviegoer fever, then 50/50 is a mildly throbbing tumor of success.
1. Dolphin Tale
Gross: $14,245,000 ($37,516,000)
Screens: 3,515
A matinee draw with a porpoise! Er, purpose! Sorry. Dolphin Tale was only a hair behind Moneyball after yesterday's count, so its no surprise that it comes to beat the Brad Pitt hit thanks to Saturday's family-heavy crowds. You stare valiantly into that great, dolphin-laden seascape, Harry Connick! You stare at it!
2. Moneyball
Gross: $12,500,000 ($38,469,000)
Screens: 2,993
Moneyball is shaping up to be Mr. October. The baseball flic is holding strong and probably won't peter off for a few weeks, so unless next week's Real Steel kills off the appeal of male-led, pseudo-sporty fare, I expect to revisit it next week here.
3. The Lion King (in 3D)
Gross: $11,057,000 ($79,652,000)
Screens: 2,340
Or as I like to call it: The Lion King 3: Hakuna Moolah. The rerelease of the '94 smash puts the film at #11 on the list of all-time highest grossing movies, right behind Toy Story 3 -- where it shall stay, dammit! I don't care if Jeremy Irons pops out of the screen in 3-D and gyrates wearing a robe of lion fur, Toy Story 3 deserves to trump this three-star Disney classic forever.
4. 50/50
Gross: $8,858,000
Screens: 2,458
I'm assuming moviegoers read our interviews with Seth Rogen and Anjelica Huston, because those will make you see 50/50. Joseph Gordon-Levitt is turning into a very appealing lead, and he's more winsome and likable here than in (500) Days of Summer -- even if he wore a wig throughout much of the shooting.
5. Courageous
Gross: $8,800,000
Screens: 1,161
I'll say one thing about this movie, one that I have zero interest in seeing: It cost nothing to make, made its budget back in one day of release, and that's impressive. The poster lets audiences know that its message involves more than a touch of theism, and I suspect there's a certain demographic that was starving for such a film to come out. Bravo there.
6. Dream House
Gross: $8,209,000
Screens: 2,661
Talk about a nightmare! With its mammoth budget, actors who work overtime to sell the unfortunate script, and contrived "intrigue" atmosphere, Dream House had no shot of a strong opening weekend. Another bust for Jim Robinson's Morgan Creek.
7. Abduction
Gross: $5,650,000 ($19,139,000)
Screens: 3,118
All of Sigourney Weaver's balloons have deflated, the bronze Taylor Lautner visage has faded to a rusty umber, and Abduction can't even abduct its budget back. Time to turn to wrestling movies, Tay.
8. What's Your Number
Gross: $5,600,000
Screens: 3,002
I'm a human being, so I love Anna Faris. But I don't love when Anna Faris stars in a movie that seems too contrived and dumb even to understand her. Let's pop in The House Bunny again and forget all about this.