Talkback: Is Melissa McCarthy an Oscar Contender?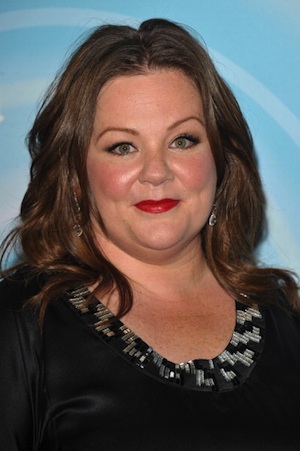 Melissa McCarthy sailed through her SNL hosting gig last night on pure charm and panache, even if the skits weren't particularly novel. Coming off her recent Emmy win for Mike & Molly, she's officially the most likable (and most liked) dame in primetime right now, which begs the question: Is this a wave of well wishes that can lead to the Oscar dais? Should we expect her name to pop in the Best Supporting Actress category alongside shoo-ins Octavia Spencer and Vanessa Redgrave?
As our own Mr. VanAirsdale noted in the premiere edition of this year's Oscar index, there's an attractive, Jacki Weaver-sized void in the Best Supporting Actress rundown: If Octavia Spencer and Vanessa Redgrave nab spots while The Descendants's Shailene Woodley and The Artist 's up-and-comer Bérénice Bejo notch the third and fourth rungs, we have room for either an Academy-friendly talent -- former nominees Janet McTeer and Judi Dench are promising -- or a sprightly young thespian with charm galore, meaning Jessica Chastain's fun, if one-dimensional performance in The Help qualifies, as does McCarthy in Bridesmaids.
The game-changing element, it seems, is that 2011 is already billed as a banner year for lady-led films, which makes the idea of Bridesmaids kudos all the more enticing to Oscar voters. Hell, The Help will rack up two nominations at the very least. The damning element, though, is that Bridesmaids is undoubtedly an ensemble piece, and none of its stars stand out as obvious honorees. I preferred Rose Byrne and Wendi McLendon-Covey to McCarthy, personally, but the combination of likability, talent, "ladies in comedy" good cheer, and sheer statue cred make McCarthy the perfect storm of viable attributes. It's easy to honor the previously honored. That Emmy may be as much of a calling card as Helen Hunt's combined three Emmys were back in 1997. (She won a fourth after her Oscar win.)
What do you think? Does McCarthy have a chance at Eddie Murphy's Oscars, or will Janet McTeer storm to the Kodak in her place?