Quickly, Let's Come Up With 20 Hilarious New Titles for The Girl with the Dragon Tattoo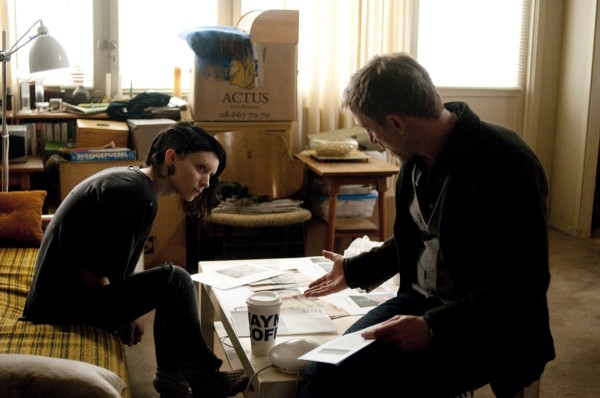 I accept that The Girl with the Dragon Tattoo will be the sensation of winter, and not just because it looks fantastic in its new trailer. Stieg Larsson's thrilling Millennium series is perfect for David Fincher's dark auteurship, and I expect his protege Rooney Mara to pull off protagonist Lisbeth Salander's Nordic grit. In the meantime, though, Lisbeth's cartoonishly goth appearance (shown in the movie's new photos) is too bizarre not to mock, and I need to get some snark out of my system before the wave of great buzz sweeps through fall. Here are 20 mocking new titles.
1. The Girl with the Hot Topic Gift Card
2. The Girl with All Those Feelings
3. The Girl I Ignore at the Bowling Alley
4. The Girl with a Hundred Holes in Her Head
5. The Girl at the Mudvayne Concert
6. The Girl Who Has a Rough Time Fitting In
7. The Girl with the Pass to the Counselor's Office
8. The Girl Who Works at Spencer's Gifts
9. The Girl Who Sets Off the Metal Detector
10. The Girl with the Contrived Poetry
11. The Girl Who Took The Craft Seriously
12. The Girl Who Needs SPF 75
13. The Girl Who Jesse James Cheated With
14. The Girl Who Just Wants Her GED
15. The Girl Who is Ready for an Armani Underwear Ad
16. The Girl With Plenty of Lamer Tattoos Too
17. The Girl Who Stars in the Dope Show
18. The Girl Who Looks Like a Korn Album Cover
19. The Girl Who Hates All Your Labels
20. The Girl With the Obvious Issues
Please contribute your own.
Daniel Craig, Rooney Mara in 'Girl with the Dragon Tattoo'
Please contribute yours.