Tyrese on Fast Five's Oscar Chances and His Plans to Change the Universe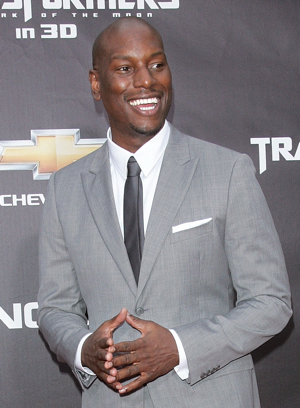 You may not have realized it, but Tyrese Gibson had a billion dollar box-office summer. The worldwide grosses of his two blockbusters Fast Five and Transformers: Dark of the Moon totaled $1.7 billion to be exact -- a number that the former model/R&B artist/actor quoted twice during a recent chat with Movieline.
Among the other topics discussed over the phone while the actor (and future author) was stationed in Chicago promoting Fast Five's Oct. 4 home-video release: possible future installments for both franchises, his whirlwind trip with Michael Bay and how he plans on changing the universe, one men's advice book at a time.
Congratulations on having two of the biggest box office successes this year. It must feel pretty great to be Tyrese right now.
Thank you. It does.
At what point were you asked to return to the Fast and Furious franchise for Fast Five?
I got a call about a year and a half ago. Then it all started, and it was just about trying to schedule it and make it all happen because they had to arrange for me to do both Transformers and Fast Five. I just couldn't believe they were letting me do both at the same time and more importantly, I was just happy that my characters hadn't been clipped.
It must have been a surreal experience to be commuting between two sets as testosterone-fueled as Fast Five and Dark of the Moon. What that time period was like for you?
There were just a lot of personalities and a lot of energy to be had. There was pressure because everyone's going to be watching these movies. I'd show up and just be respectful, know my lines and make the other people on set feel good about working with me.
It seems like you have pretty amazing foresight because you knew to invest yourself in these two franchises that would go on to become very lucrative. Did you initially expect that each would blow up the way they did?
$1.7 billion. $1.7 billion. Isn't that crazy?
It is crazy. Did you have any hunch that the films would be that successful when you signed on?
We all hoped for the best, but you never know what's going to happen. You never expect a part three or a part two. Timing is everything. There are a lot of different factors, but more importantly, I was just happy that they had me in mind and I was able to show up and make it all work.
When Fast Five first came out, Vin Diesel said that he wouldn't be surprised if there was some Oscar buzz around the movie. Do you feel like Fast Five has a shot at an Academy Award nomination?
Oscar buzz around Fast Five? I don't know. That's Vin Diesel's opinion and I respect it, but I don't know about Oscar buzz. I don't think this is that type of movie.
Would you be up for a sixth Fast and Furious movie?
Yeah, if they reached out to me. Again, timing is everything. I don't want to be making the same movie over and over again. How do the characters grow? Where does the story go from here? Those are things I'd have to consider.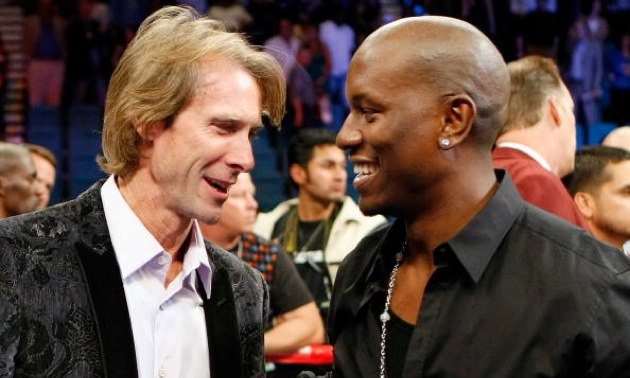 What about Transformers? Some cast members have been extremely vocal about Michael Bay's polarizing directing style. What can you say about him as a director?
Michael Bay is one of my good friends. We've had our moments. We've had our conflict. Michael Bay is a man's man just like me. He is very driven. Very focused. A lot of people don't understand him though. Here's an analogy for you -- when you walk up the street, and you see a dog that is barking really loud, if you open your arms, that dog is going to give you all love and hugs. Most people are going to just respond to the barking and say, "That is a really mean dog. He's barking a lot. He's really aggressive." You get what I'm saying?
I get what you're saying.
He's a really nice guy. We've gone out together. I called him out of the blue one time and said, "Hey, I have to perform at the Floyd Mayweather fight. You want to go?" He was like, "Hell yeah! Let's do it!" We hopped on the plane and went to Vegas. I sang the national anthem at that fight, and Michael Bay was standing right behind me. He had never been in a boxing ring for a Vegas fight like that, and he was shaking in his boots! But he was out of his arena. He wasn't on a movie set. He was in a boxing ring. It's a different world there. I thought it was hilarious that he was shaking like that.
Have you bonded with Megan Fox, Shia LaBeouf or any other of the other Transformers stars as much as you've bonded with Michael Bay?
I bond with everybody. I get along with everybody. I'm a chameleon. You can do it whatever way you want to do it, I'm all yours.
So the world knows blockbuster Tyrese. What's next for you film-wise? Are you looking to show a gentler side of yourself onscreen anytime soon?
Well, I think one of my next roles is going to be the life story of Teddy Pendergrass. My company just locked up the life rights for the film. We're very excited about what's about to happen.
What about that life story appealed to you?
I'm a singer. He's a singer. He's someone I looked up to and he brought a lot of great music and created a shift in the music universe when he first came on the scene with all of his hit records. He's a part of the real legacy and history where real R&B and soul music and sex symbolism comes from. I definitely took a few notes out of those chapters.
Are you hoping that film critics will consider you a dramatic actor after this role?
I've never had critics in mind when I do roles. I just show up knowing that they are going to have their opinion and write their reviews. I just show up and try to be the best version of me I can. Whatever they decide to say is on them. This is America. People can say whatever they want about movies. It's all good.
At this point in your career, is acting your number one priority?
Music is my priority. I just finished my new album. It's called Open Invitation and it's coming Nov. 1. This is the best album of my R&B career. I've never been more proud of anything I've ever done musically. I've got collaborations on there with Rick Ross, Ludacris and R. Kelly. I'm in the club and the bedroom at the same time.
What does that mean exactly?
I got a club record this time. This is actually music you can dance to. I'm more known for my ballads and my flow records. This time, I'm finally able to get in the club and have some fun and be part of that activity as well as the bedroom activity.
I noticed that you've been tweeting a lot recently about a project called Manology. What can you tell me about that?
Me and Rev Run, the rapper of Run DMC, are writing a book together called Manology. We just had 10 meetings the other day with 10 of the biggest book publishers in New York and all ten are bidding and fighting for the book now. Rev Run has 2.6 millions on Twitter and I got close to 2 million followers and all we do on Twitter is write words of wisdom and put our knowledge out there. Sometimes we pass along information that we've come across that we like to use to motivate and inspire people. Rev's a full-on legend and icon and all of the above and I'm on my way up the ranks. Between his generation and my generation, hopefully we'll be able to create a real shift in the universe with this book Manology.
So it's an inspirational compilation book for men.
Well, it's going to be inspiration for men and women.
What kind of advice will you be giving women?
Women want to know about men -- how we think, how we move, why we react the way we react and respond the way we respond and all of the above. We're going to look at it like a real instruction manual for men and the way we think just a little bit more.
So you are a musician, actor and on your way to becoming an author. What do you want your legacy to be? How do you hope people will remember Tyrese?
I just want to be able to say that whatever I did, I showed up trying to be the best version I could. And also: I don't compete. I win. Period.
[Photos: Getty Images]