Thought Jack and Jill's U.S. Poster Was Scary? Check Out Argentina's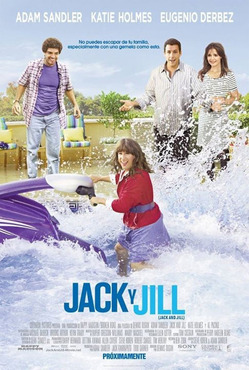 Let's not belabor this: However Adam Sandler's forthcoming dual-role family comedy Jack and Jill turns out, there is no denying that its marketing campaign is deeply, profoundly disturbing. Like, nightmare fuel. Unbelievably misguided, lazy, slapped-together and unsightly. And really, that's not even counting the American marketing at this point.
Argentina gets this movie, too (we are nothing if not charitable with our exports!), and so check out the one-sheet currently exhorting that country's moviegoers to part ways with their pesos and spend time with Sandler, Katie Holmes, Mexican star Eugenio Derbez, and a JetSki. Tagline translation is welcome, though I'm pretty sure it says, "You cannot escape your family, especially with OMG we're totally fucked."
[Click for bigger image, via Videogum]