Russell Brand to Help Julianne Hough Sin, Find Herself in Diablo Cody's Directorial Debut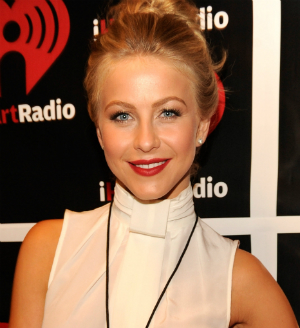 Footloose remake co-star and Dancing with the Stars ingénue Julianne Hough has landed the lead in Diablo Cody's newly untitled feature directorial debut about a conservative young woman who regains her faith after heading to Sin City. And who will play the wild and crazy figure that helps her on her debauched path to redemption? None other than Russell Brand. Perfect casting, no?
Mandate Pictures made the announcement today in a press release that curiously referred to the project, previously titled Lamb of God, as Untitled Diablo Cody Project. Maybe the film's undergoing a title change?
Regardless, Brand's sort of a no-brainer in the way of mentoring anyone in the ways of Vegas-style depravity, and Hough's acting career is on the rise; she's certainly got the innocent, All American look down even if her dramatic talents are relatively unproven. With Cody both writing and behind the camera, it'll be interesting to see how much Hough can stray from her good girl image.
Press release follows...
===========
Mandate Pictures announced today that Julianne Hough (FOOTLOOSE) and Russell Brand (GET HIM TO THE GREEK) will star in the UNTITLED DIABLO CODY PROJECT. Academy Award® winner Diablo Cody will make her feature directorial debut from her original screenplay. Mason Novick (500 DAYS OF SUMMER) will produce. Mandate president Nathan Kahane (50/50) will executive produce alongside Diablo Cody. Nicole Brown, EVP of Production, is overseeing the project on behalf of Mandate Pictures. The project is on a fast track for a spring production start. Lionsgate is handling international sales and will present the film as part of their upcoming American Film Market slate.
The comedy follows a sheltered young woman (Hough) who loses her faith after a plane crash and decides to go to Las Vegas to experience the wild side of life. On her journey, she meets an unlikely companion (Brand) who inadvertently helps her find her true self.
Julianne Hough is represented by CAA and Azoff, Geary, Paul, Smith Management. Russell Brand is represented by WME and manager Nik Linnen. Diablo Cody is also represented by WME and attorney Jeff Frankel of McKuin Frankel Whitehead LLP. Dan Freedman, SVP of Business & Legal Affairs, and Allison Strina, VP of Business & Legal Affairs, negotiated the deals for Mandate.
THE UNTITLED DIABLO CODY PROJECT marks the third collaboration with Cody, Novick and Mandate after their successful partnerships on JUNO and YOUNG ADULT, which will be released by Paramount Pictures this December. JUNO, directed by Reitman and written by Cody, garnered a host of accolades, including an Academy Award® for Best Original Screenplay (Diablo Cody) and three Academy Award® nominations for Best Motion Picture (Lianne Halfon, Mason Novick and Russell Smith, Producers), Best Actress, and Best Director. The $227 million box-office and critical sensation was released by Fox Searchlight in late 2007.
###