Here's Your Chance to Adopt a Harry Potter Star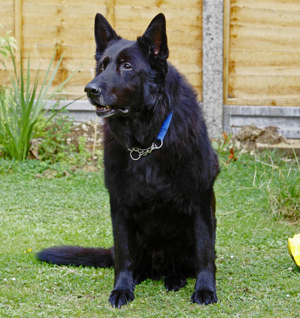 Have you been on the lookout for a living, breathing Harry Potter cast member to call your own? If so, you're in luck because an adorable actor who appeared onscreen in Harry Potter and the Prisoner of Azkaban is looking for a new home. Hint: It's not Daniel Radcliffe.
It's Berry, the 10-year-old German Shepherd who played Padfoot, the animal incarnation of Gary Oldman's character Sirius Black in Harry Potter and the Prisoner of Azkaban. Berry's owner, a stuntman named Paul Thompson, is asking that whoever adopts Berry also adopt Berry's "best mate" Porridge, a German Shepherd Labrador who has had a few roles in television. Thompson claims that he travels too much to give Berry and Porridge the attention they deserve.
Both animals are listed on the German Shepherd Dog Rescue website along with first-canine narratives:
My real name is Berry, Shadowberry, and I am now 10 human years old. Many dog years ago I played the part of Padfoot in a big film that was watched by many people all around the world (or so my Dad told me). I haven't seen it personally but apparently I looked pretty mean in it sometimes.
I am a German Shepherd and my Dad got me as a puppy. He did lots of exciting things like being a stunt man and animal training for films. That's probably how I got my part. I love people and my best friend is Porridge who is 13 human years and who I live with. Porridge has also been in some films. Both of us are a bit wobbly in our older years but we still love life.
To read the rest of Berry's heartbreaking testimonial and to inquire about adoption, click here.
· HARRY POTTER'S PUP IS HOMELESS [Express.co.uk]