Introducing Movieline's 2011 Oscar Index: Your Weekly, Fool-Proof Awards-Race Breakdown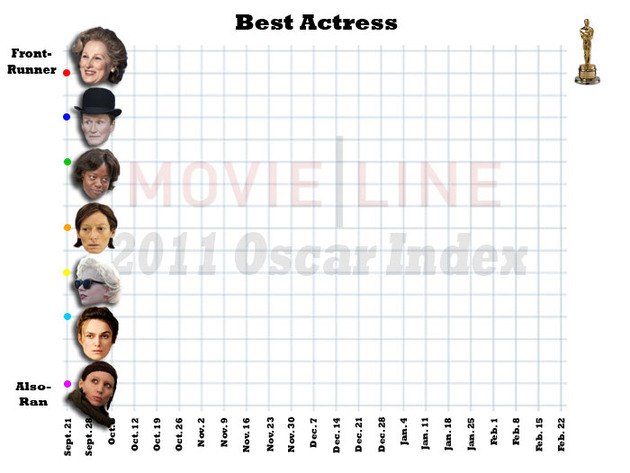 The Leading 5:
1. Meryl Streep, The Iron Lady
2. Glenn Close, Albert Nobbs
3. Viola Davis, The Help
4. Tilda Swinton, We Need to Talk About Kevin
5. Michelle Williams, My Week With Marilyn
Outsiders: Keira Knightley, A Dangerous Method; Rooney Mara, The Girl With the Dragon Tattoo; Charlize Theron, Young Adult; Emma Stone, The Help, Elizabeth Olsen, Martha Marcy May Marlene; Felicity Jones, Like Crazy; Michelle Yeoh, The Lady
This is already shaping up as the the most cutthroat race of all, if only for the forces at play and politics at hand. Harvey Weinstein has not one but two lead actresses nearly certain to make the top 10; he'll be pushing to end Streep's 30-year win drought and get the increasingly beloved Williams her second nomination in as many years. Then there's Close, who hasn't even been nominated since the late '80s and has a shapeshifting, gender-bending role to remind the Academy she's not just on TV anymore. Davis belongs in the discussion despite protests that The Help is Stone's movie, if only because regardless of how much The Help makes, one glance at the competition means it's a veteran's race. (That's partly why I don't even entirely scoff at the suggestion that Yeoh could sneak in, though she seems less in the vein of 2008-era Melissa Leo than, say 2010-era Halle Berry.)
Meanwhile GoldDerby asks the fair (and relevant) question, "Are Marion Cotillard and Tilda Swinton one-time Oscar wonders?" Swinton in particular reiterated recently that she couldn't care less about her Supporting Actress win in 2007 ("I don't know what it means. [...] I wasn't brought up on this planet. I never wanted to win anything but the Cheltenham Gold Cup. But I'm not a race horse."), an attitude that won't necessarily advance her favor among voters regardless how much the majority of her peers respects her. That's why I like Mara, Olsen or Jones to vie for either of the last two spots; that would signal the preference toward new, upstart blood that voters showed last year by nominating Jennifer Lawrence over Swinton -- who went bilingual and everything for the celebrated I Am Love.
Incidentally, a few weeks ago after publishing Knightley among the preliminary Oscar Index's possible Supporting Actress candidates, a publicist nagged me within minutes: "Just so you know Keira is a definite co-lead of ADM, she is in it from beginning to end, and definitely NOT a supporting character." Well, yeah. Tell it to Hailee Steinfeld. And has anyone at Sony Classics seen the wasteland that is Supporting Actress this year? Be smart! Move her!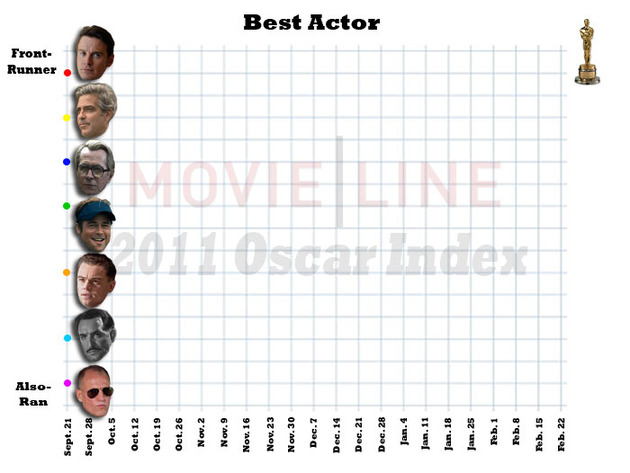 The Leading 5:
1. Michael Fassbender, Shame
2. George Clooney, The Descendants
3. Gary Oldman, Tinker, Tailor, Soldier, Spy
4. Brad Pitt, Moneyball
5. Leonardo DiCaprio, J. Edgar
Outsiders: Jean Dujardin, The Artist; Woody Harrelson, Rampart; Ryan Gosling, The Ides of March; Tom Hanks, Extremely Loud and Incredibly Close; Tom Hardy, Warrior; Michael Fassbender, A Dangerous Method
Man, oh man, this will be good: Overdue megastars facing off against a cabal of rookie Euros. Even the Clooney factor being what it is can't hide Fassbender's surge, already the stuff of award-winning, soul-baring legend, not so far removed from the position that we saw Natalie Portman latch on to last year and never relinquish, even as the Bening campaign snapped ferociously at her ballet slippers.
Of course, Fassbender's virtually certain nomination isn't nearly the same thing as Fassbender win. After all, do you really think Fox Searchlight sank money into an NC-17 sex-addict opus because it planned to run Fassbender against Clooney in another Searchlight movie? This is a classic case of buying the competition so you can put it out of business -- not box-office business, mind you, or even awards-season business. They want each nominated. But obviously only one can win, and only one has the clear potential to capitalize on that win in a mass-market, take-the-family sort of way. A nomination that will burnish the other's art-house mythology will do just fine as well. Give this until mid-October, after both have screened at the New York Film Festival, and let's see where things lie.
Elsewhere, Pitt and Oldman are getting some of the best reviews of their careers for their respective films, while DiCaprio has 4,000 makeup-chair hours invested in what he hopes will be his fourth nomination. Scott Feinberg says that it's all down to Pitt and DiCaprio in particular, writing of the latter at THR, "I've heard from people who have already screened J. Edgar, but are not working on its behalf and have no vested interest in its success, that he will be very hard to beat." Harrelson is losing TIFF momentum by the day without a U.S. distributor to take up Rampart's cause, while Dujardin is the ultimate wild-card -- not least because of his film's old-fashioned charm and the types of inspired Weinstein dark arts that lifted Roberto Benigni to a surprising victory back in '98.