Ghostbusters Slot Machines Promise Ectoplasmic Gambling Fun
Great news today for Ghosbusters-loving gamblers: According to a press release just over Movieline's transom, International Game Technology is combining your two passions with a Ghostbusters™ Slot Machine "that will have even the most die-hard fans' P.K.E meters scrambling." They can win you millions (but most likely will not)! They can keep you company during all of those those cold, lonely lights when Ghostbusters 3 is still just an unconfirmed possibility. And best of all, they're already in Vegas!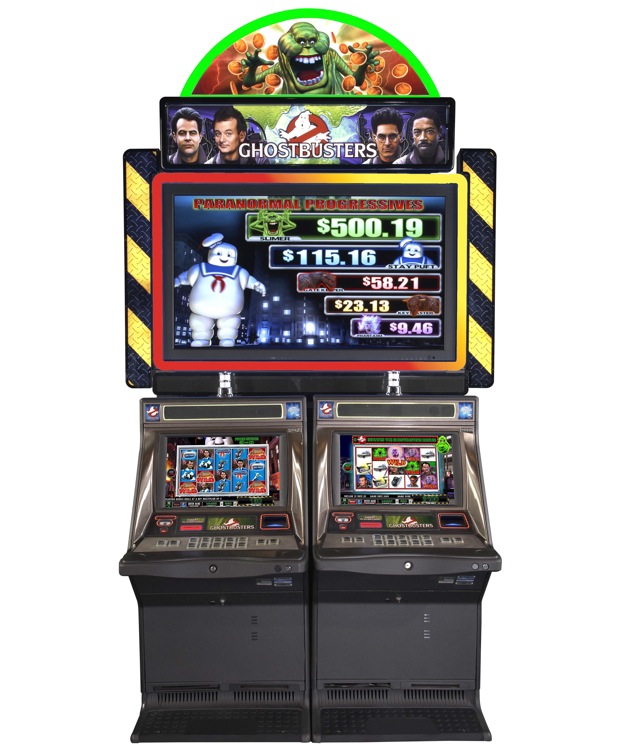 Just a week after learning that Ghostbusters will get a theatrical re-release this October, IGT has announced that their movie-themed slots will appear exclusively in MGM Resorts International for 30 days (beginning September 19) before appearing in other venues on the Vegas Strip.
Each Ghostbusters™ Slot features a 55-inch overhead LCD screen, chest-pumping MEGAfx surround chairs and your favorite characters from the franchise (Slimer, the Marshmallow Man and the Ghostbusters team). Additionally, players will have the chance to try a variety of games on each coin-operated machine including Ballroom Busters Pick Bonus, Stay Puft Free Games Feature, Are You Psychic? and a Paranormal Pick Bonus. With 50 credits per spin, who needs a Ghostbusters threequel!?
Okay, we still might. No word yet on whether Bill Murray (who, last we heard, had not even read the G3 script) and the rest of the cast will profit off of this venture. As recently as August, Dan Aykroyd said that Ghostbusters 3 will begin production in the spring however there have not been any conclusive updates on the project.
Take a closer look at the Ghostbusters™ Slots in the following video before slapping on your Proton pack change purse and booking the next flight to Vegas.
Full IGT release below...
==============
LAS VEGAS, Sept. 21, 2011 - Ghost-tracking Psycho Kinetic Energy meters will be going crazy at MGM Resorts International (NYSE: MGM) properties when the frighteningly fun Ghostbusters™ Slots come to The Strip as part of a 30-day, exclusive first-to-market partnership with International Game Technology (NYSE: IGT). The Ghostbusters™ Slots featuring Slimer, the Stay Puft Marshmallow Man and the hilarious Ghostbusters team was launched throughout the MGM Resorts' Las Vegas properties Monday, Sept. 19.
Debuting on IGT's new Center Stage Duo™ model, the game features the mischievous and lovable character Slimer teasing, mocking and awarding players with antics, multipliers and credits as he leads them through the game. A vivid 55-inch overhead LCD screen and chest-pumping MEGAfx Surround Chairs will send players' adrenaline racing during spectacular bonus rounds including:
· Ballroom Busters Pick Bonus: Holdin! Smokin! Ready! Players are awarded five proton shots to blow up the ballroom to find ghosts.
· Stay Puft Free Games Feature: Marshmallows fall from the sky, stick to symbols and turn them wild during this sweet feature.
· Are You Psychic? Bonus: Guess the correct card to win credits and advance to the next round!
· Paranormal Pick Bonus: Five levels of Paranormal Pick Bonuses allow players to select from phantasm clouds for a chance to win the progressive jackpot.
"Based on the blockbuster film franchise from Sony Pictures, the memorable characters, a catchy song and many unforgettable scenes have made Ghostbusters a pop culture mainstay, and I think we've captured the fun of the brand in the Ghostbusters Slots," said Eric Tom, executive vice president, North America Sales and Global Operations. "Players will be thrilled by the constant action and our graphic and sound technology will make for a ghoulishly good time."
Sherri Gilligan, senior vice president of marketing for MGM Resorts International, said, "Our guests deserve to have an amazing experience each time they arrive at one of our properties and the Ghostbusters Slots will add to that overall experience. The partnership with IGT allows us to create new opportunities for our guests and this is another example of an exclusive game we will feature on the casino floors throughout our company during the festive Halloween season."
To help kick off the Ghostbusters™ Slots fun, MGM Resorts and IGT will launch a sweepstakes featuring a grand prize VIP trip to Las Vegas.
About MGM Resorts International
MGM Resorts International (NYSE: MGM) is one of the world's leading global hospitality companies, operating a peerless portfolio of destination resort brands, including Bellagio, MGM Grand, Mandalay Bay and The Mirage. In addition to its 51% interest in MGM China Holdings and the MGM Macau, the Company has significant holdings in gaming, hospitality and entertainment, owns and operates 15 properties located in Nevada, Mississippi and Michigan, and has 50% investments in three other properties in Nevada and Illinois. One of those investments is CityCenter, an unprecedented urban resort destination on the Las Vegas Strip featuring its centerpiece ARIA Resort & Casino. Leveraging MGM Resorts' unmatched amenities, the M life loyalty program delivers one-of-a-kind experiences, insider privileges and personalized rewards for guests at the Company's renowned properties nationwide. Through its hospitality management subsidiary, the Company holds a growing number of development and management agreements for casino and non-casino resort projects around the world. MGM Resorts International supports responsible gaming and has implemented the American Gaming Association's Code of Conduct for Responsible Gaming at its gaming properties. The Company has been honored with numerous awards and recognitions for its industry-leading Diversity Initiative, its community philanthropy programs and the Company's commitment to sustainable development and operations. For more information about MGM Resorts International, visit the Company's Web site at www.mgmresorts.com.
About IGT
International Game Technology (NYSE: IGT) is a global leader in the design, development and manufacture of gaming machines and systems products, as well as online and mobile gaming solutions for regulated markets. More information about IGT is available at www.IGT.com or follow IGT on Twitter at @IGTNews or Facebook at www.facebook.com/IGT.
###