Steve Martin Invokes Norbit, Bowfinger in Mildly Funny Oscars Letter to Eddie Murphy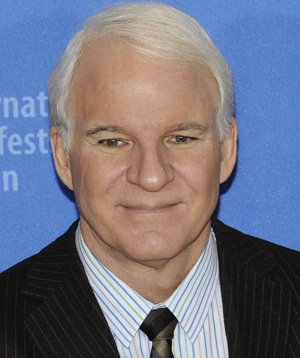 The entertainment world may have been a little shocked earlier this month to learn that Eddie Murphy would be hosting this year's Academy Awards but three-time Oscar host and Murphy's Bowfinger co-star Steve Martin has complete faith in the comedian's statuette-presenting ability. And a few mildly funny words of advice.
Today, the Big Year star posted an open letter to Murphy on his website SteveMartin.com, which pokes fun at himself, Alec Baldwin (his Academy Award co-host last year) and a few cringe-worthy credits on Murphy's resume. Among the words of wisdom:
· "Start slimming down now. You looked kinda paunchy in Norbit.
· "Remember to relax and have a good time while 12,000 livebloggers rip you to shreds."
· "If you feel tired midway through, give Neil Patrick Harris a Red Bull and throw some sheet music at him."
· "...don't have a co-host. They're a big pain and they just end up breaking your SNL hosting record."
Martin concludes by noting that he always thought that Murphy deserved an Oscar nomination for his work in the 1999 comedy Bowfinger in addition to the "large paychecks and drivers and any type of food we wanted delivered to us every day in our really nice trailer."
For Steve Martin's full letter to Eddie Murphy, head on over to the comedian's website.
· An Open Letter to Eddie Murphy [SteveMartin.com]