John Singleton on Abduction, PG-13 Love Scenes and Turning Twilight's Taylor Lautner Into an Action Hero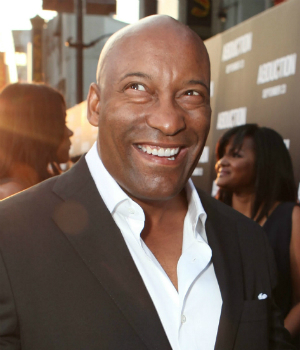 It's not just Twilight star Taylor Lautner who has a lot riding on this week's PG-13 action thriller Abduction, in which the erstwhile Jacob Black plays a suave teenager who turns spy-on-the-run after discovering his life has been a lie. Director John Singleton has something to prove with his first directorial effort since Four Brothers, even if he exudes nothing but confidence while discussing the high-octane action pic.
Abduction marks the latest in a curious twenty-year progression for Singleton, whose powerhouse debut, 1991's Boyz n the Hood, earned him Oscar nominations for writing and directing at the age of 23. As he points out, the mainstream thriller is just the latest in a series of films about "young men trying to find their place and trying to make connections in the world, with their families." But with its slick, often silly action sensibilities and teen heartthrob star (who simultaneously flexes his dramatic muscles and his six pack in shirtless scenes and racy-but-PG-13 clinches), Abduction is a long way removed from Singleton's gritty beginnings.
Still, the challenge of it all was part of the attraction, he says. Can Singleton turn 19-year-old Lautner into the next Tom Cruise? Having already promised a sequel following the Twi-hard fervor at Abduction's Los Angeles premiere, he seems sure of it. Read on as Movieline speaks with Singleton about why he signed up for Abduction despite the rushed production schedule, the action hero lessons he gave Lautner, which steamy scenes Lautner and co-star Lily Collins heated up on their own accord, and why he hopes audiences will get onboard with Abduction's tone instead of thinking, 'Aw, shit.'
They say that you spent a few years after your last film, Four Brothers, to go sailing and raise your kids. Is that why you took time away from directing for a short while?
Well, in late 2005 I got custody of four of my five kids at the time, and I thought I was going to -- I don't have hair, but -- I thought I was going to pull my hair out. But I produced some movies in that time, too. I did Black Snake Moan and Ilegal Tender and stuff, and then I was attached to A-Team and some other movies that went down. So it wasn't me just taking time off, I was still working. But, you know. Things were falling apart at the studios, they were changing and evolving. I was just devoting my time to trying to get my kids together, going from being a weekend dad to being a single dad. I'm gonna make a movie about that! [Laughs] That was the whole thing for me.
Filmmaking does seem to be a juggling act, when it comes to things like that.
Making movies is harder than raising kids! [Laughs]
I guess that depends on how rambunctious your kids are.
Oh yeah, mine are real rambunctious.
So when Abduction came about for you, when you were offered the director's chair, it all seemed to come together very quickly.
Oh, it happened like that. [Snaps fingers] They sold the script to the studio in January, got Taylor [Lautner] in February, and I was on in March.
And you only had a few months to prepare.
Two and a half, three months. We were shooting in July, and now it's out!
Isn't that a crazy schedule? Or do you enjoy the challenge of that kind of pressure?
Oh, I love it. I love it. People don't understand that a lot of the movies that I've done that have been really great and popular, they've had such quick turnarounds. That means that they're really fresh and new, they're not gestating for two, three, four, five years. When I did Four Brothers, it was eight months from shooting to release, which is less than a year. 2 Fast 2 Furious, seven months. I like working in that spontaneous kind of [spirit] where the studio says, 'We need a movie now!' That's good.
What are the biggest challenges in working that way?
Time. It's always time.
You came to Abduction once Taylor was attached to star, but do you think you would have done it if he wasn't?
I don't know. I don't think I would have done it if Taylor wasn't on it, because part of the allure was his energy. His energy to want to do something and be different than what he's done before.
I've followed the Twilight films, and it seems clear from your recent premiere that Taylor's Twilight fanbase is going to be very supportive of the film -
You've seen the movie, right? And you're a big Twilight fan? So you understand how we didn't have him do the [same stuff]...
Oh yes, he's totally more mature -- I mean, he says his first onscreen swear word, pretty much, in Abduction.
Exactly! [Laughs] It's like, 'Whoa!'
And the train scene in which he and Lily Collins are making out extensively is another newfound mark of maturity for him.
[Grinning] He picks her up, they were doing that... that day. They couldn't wait for that day. They were like, 'We're gonna show you!' I was like, 'OK now, this is PG-13,' and they said, 'Cut it out if you want to cut around it!' I said, 'Wait, wait, wait...' Lily was like, 'And then I'm gonna straddle him!' [Laughs]
Taylor's 19 -
And she's legal.
... and with those mature, racier elements being combined with this film as his coming-out moment as an action star, do you feel a heightened sense of responsibility as his director than you might with already established actors? So much is riding on this as his first non-Twilight film...
Oh yeah. A lot is riding on it, exactly. Going into it, that's why he was so hungry to do something really big and different with which he could prove himself as a guy who can command a movie on his own.
I think we can all agree he can pull off the action element, but the dramatic acting is fairly new for him.
And the funny, too.
Did you feel like it was harder or easier to pull out the sexy or the vulnerable moments from him?
It wasn't hard -- Taylor's not a hard guy to direct, really. It's really mainly because he was with me from the moment we both came on this movie, trying to do different things. We never had a hiccup where we had to figure each other out or anything. We just started watching movies together and talking about what classic action heroes did. We have these rules, the 'hero rules.' Like, a hero doesn't slouch. A hero walks proudly with his head up. A hero walks with a purpose. A hero's always a gentleman. Even when he's running from the bad guy, he's like, 'Excuse me' and the bad guy's like, 'Get the fuck outta my way!' It's little touches that really make the movie.
What kinds of action hero references did you give Taylor?
For me, more the '90s and '80s heroes. Movies I went to go see. I told him, 'The first thing that's going to happen in this movie is, you're going to get smacked.' He said, 'What are you saying? You want to smack me??' I said, 'No man, but great heroes got smacked around - like Harrison Ford in Raiders of the Lost Ark and Bruce Willis in Die Hard. And once they prevail, the audience is like, yeaaah!' I said to him, 'Once you get smacked in this movie, the girls will go, ooooh!' And then they root for you to come back.
Abduction seems to really embrace the genre ridiculousness that can come with action movies. How mindful were you of making it more fantastical than realistic?
Whatever we can get away with that doesn't seem just, like... you never want anyone to go, 'Aw, shit.'
Certain lines of dialogue might play differently with audiences because of the tone they're executed in. Mostly in the tender moments, I think.
Yeah, that's true.
What kind of tone were you trying to strike?
I just wanted the film to have an emotional weight to it, you know. Not just be a boom-boom-pow action movie. I think you need it to have some emotional resonance to the story instead of just the action. That makes the action better.
I have to tell you, there's a moment when Taylor is chatting online where I swear I caught a typo. I could be wrong, but I thought to myself: is this intentional? Are we supposed to think Taylor's character is a bad speller?
[Laughs] I didn't even notice that! That was unintentional. I didn't direct that part.
I'll have to watch it again to double check. How do you see Abduction fitting into how your film career has evolved, since Boyz N the Hood?
It has a kind of thematic throughline that I've always had, of young men trying to find their place and trying to make connections in the world, with their families. I've been doing that. That's kind of like my throughline in all of my films.
It's just the means in which you express that theme that's changed?
Yeah, exactly. The themes are all the same, really.
Abduction is in theaters Friday.