Barry Levinson and Sheryl Crow to Bring '80s Movie Diner to Broadway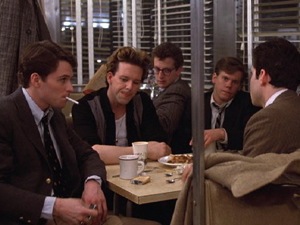 Now, in addition to Goonies, Newsies, Carrie and Rocky, Hollywood is adapting Diner into a Broadway musical. If it works out, Diner could be the next Billy Elliott or Hairspray! And if not, it could be the next Spiderman: Turn Off the Dark. Scheduled for a fall 2012 premiere, the adaptation of Barry Levinson's directorial debut will revive the saga of high school buddies played by Steve Guttenberg, Daniel Stern, Mickey Rourke, Kevin Bacon, Tim Daly and Paul Reiser. Oh, and did I mention that Sheryl Crow is involved?
The Grammy-winning artist will write the music and lyrics for Diner, the Broadway musical, which will follow the same characters, who in the 1982 film, reunited for the wedding of one of their friends. Levinson will pen the book and Tony Award-winner Kathleen Marshall (Anything Goes, The Pajama Game) will direct and choreograph.
In a press release announcing the project, Levinson added, "I'm excited to be embarking on this stage version [of Diner], which affords me the opportunity as a storyteller to expand on my original vision and let the characters express their innermost feeling and thoughts through song."
Levinson also attempted to revive his Diner characters in an ill-fated 1983 CBS television plot which starred Paul Reiser, Michael Madsen and James Spader.
· Barry Levinson Books 'Diner' For Broadway Bow, Sheryl Crow To Write Music [Deadline]