Aaron Sorkin Breaks Nose on the Job, and 6 Other Stories You'll Be Talking About Today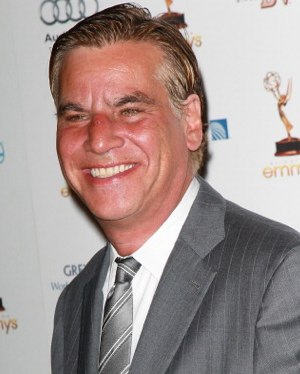 Happy Monday! Also in today's edition of The Broadsheet: Friends With Kids is among a fistful of Toronto deals... Paramount decides to make the Oscars and Eddie Murphy work for them... Emma Stone and Viola Davis are taking their Help show to Switzerland... Martin Scorsese will not go for the EGOT... and more.
· Aaron Sorkin revealed over the weekend just how much he really gets into writing, claiming he recently broke his nose while reciting dialogue into a mirror, getting too close and, uh, headbutting the glass. "I wish I could say I was in a bar fight," Sorkin said Sunday night at the Emmys, "but I broke my nose writing." Mm-hmm. If I had a nickel for every time a writer told me he busted his beak while reading their own dialogue back into a mirror, I could retire. Let's hear what really happened, Sorkin. [LAT]
· The 2011 Toronto International Film Festival has officially entered the rearview mirror, but not before a flurry of deals sending the acclaimed ensemble romcom Friends With Kids to Lionsgate, the post-apocalyptic thriller The Day to WWE Studios (yes, that WWE), and the comic potboiler The Oranges to ATO Pictures. All are expected to arrive in theaters in 2012. [Deadline]
· To nobody's real surprise, Paramount pushed its Eddie Murphy comedy A Thousand Words back from January to March. The move is expected to capitalize on Murphy's long post-Oscar-hosting tail, and why not? It worked so well for James Franco and Your Highness. [THR]
· Emma Stone and Viola Davis will attend the Zurich Film Festival, where The Help has been selected as the closing-night film on Oct. 2. Surely there is a Roman Polanski joke to be made here, but it's Monday and I've got nothing. You try. [THR]
· Fact: The Smurfs is the most consistent foreign box-office performer since Avatar, just concluding its fifth consecutive weekend in first place overseas.
[Variety]
· "No, I'll never get that." And with that, new Emmy winner Martin Scorsese dashes your dreams of a Tony Award run to complete his EGOT. [Access Hollywood]
· Take a few minutes at some point today to read this lovely appreciation of Michael Barker and Tom Bernard, who are commemorating their 20th year as co-presidents of Sony Pictures Classics. It's hard to overstate how much they've influenced both moviemaking and moviegoing, usually without us even noticing. Congrats to them! [The Hot Blog]
[Photo: Getty Images]