Surprise 8-Minute Girl with the Dragon Tattoo Trailer Makes A Case for the Fincher Remake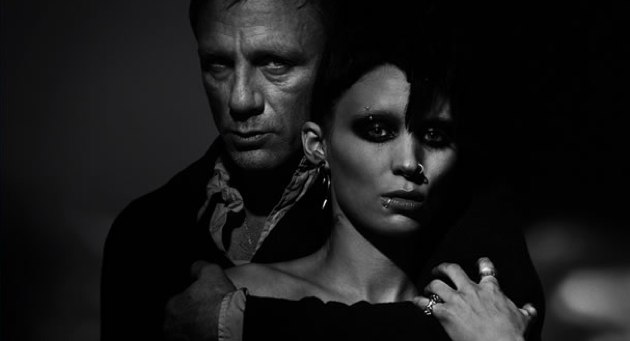 Over the summer, audiences got their first taste of David Fincher's English-language version of The Girl with the Dragon Tattoo in the form of a "leaked" trailer that was either stolen and placed online or (more likely) a brilliantly secretive piece of marketing posed as an accidental viral phenomenon. This week something called Mouth Taped Shut (http://mouth-taped-shut.com/) debuted announcing a special surprise attached to a number of "secret" regional screenings of upcoming Sony films Straw Dogs and Moneyball. That surprise turned out to be an eight-minute preview trailer for Fincher's Dragon Tattoo.
I caught the surprise sneak preview before a Screen Gems screening of Straw Dogs on Wednesday night in Los Angeles. The big revelation here isn't so much that the Dragon Tattoo blitz is, in fact, quite organized over at Sony (someone over there is a marketing genius, even if the studio never takes credit for this campaign -- at least, until Oscar time) but that Fincher's version of Stieg Larsson's novel The Girl with the Dragon Tattoo actually seems to justify its own existence as a remake of Swedish director Niels Arden Oplev's already pretty great 2010 film adaptation.
That film version of Dragon Tattoo starred Swedish actress Noomi Rapace in a star-making role as Lisbeth Salander, the damaged, cyber-punk heroine of Larsson's Millennium Trilogy. Rapace's feral, coldly distant portrayal of Salander seemed unmatchable when the idea of a Hollywood film adaptation, to hit screens stateside within two years of the Swedish version, was first floated.
And while that first teaser trailer was intriguing in itself -- flashes of visuals and looks at American actress Rooney Mara as Lisbeth Salander, accompanied by Trent Reznor's highly-charged score -- the new, "secret" (read: intended to become viral) eight-minute preview gives a much deeper, much more convincing argument for why Fincher's version will stand completely on its own. One reason why: Mara's Lisbeth seems to be a different creature than Rapace's Lisbeth.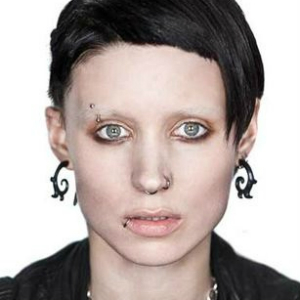 For starters, there's her appearance. Mara's Lisbeth looks and feels far more alien than her predecessor; her eyebrows are bleached, which is the kind of detail that leaves an unsettling impression even if you can't quite place your finger on why. Her makeup is smokier, her physique more angular; in the trailer, someone even points out how skinny she is, which she waves off. Mara seems more fragile than Rapace in ways, and yet there's a different quality in her eyes. Not better, just different -- enough to convince that yes, this new Lisbeth might offer something new that's worth watching, even to those who've seen the Swedish version.
To the uninitiated, the eight minutes of interwoven plot and intrigue and images won't seem like much more than a complicated mystery tale, which is what Dragon Tattoo is; there's enough plot in Larsson's trilogy-starting novel to fill multiple hundreds of minutes of runtime, let alone convey the gist of it all in a single trailer. Which is where the eight minutes come in handy; it's time enough to introduce your two protagonists, Salander and her journalist counterpart Mikael Blomkvist (Daniel Craig), explain that a rich man named Vanger (Christopher Plummer) has hired the pair to investigate the decades-old disappearance of his beloved niece, meet Vanger's respectable looking but suspect family members, delve into handsomely-shot flashbacks, show the duo finding strange Biblical clues to the mystery and dip into the separate backstories of Salander and Blomkvist and their respective personal lives while offering flashes of thrills and action sequences.
More importantly, the eight minute trailer allows the individual performances to breathe, demonstrating that the film's recognizable cast of stars can indeed disappear into the material even while speaking lilting, Swedish-accented English. This achieves what other Hollywood remakes of foreign language films often do not: it proves there's an advantage in remaking a film in English for English audiences. I'm usually of the "just read subtitles, people" camp, where Hollywood versions of great foreign films seem redundant if the original versions are excellent in their own right; Let the Right One In, for example, was a foreign language film (Swedish as well, coincidentally) that I didn't feel benefitted from being remade with an Americanized setting or in English for ease of understanding.
Here, however -- even in just a preview -- the language adjustment seems to make the performances and story more immersive. Combined with a charging, tinkling score that crescendos and Fincher's deft visual work, which builds palpable atmosphere in mere snatches of full scenes, this feels like a separate beast from Oplev's film. Same story, same characters (minor deviations remain to be seen, such as in a scene depicting Lisbeth's run-in with her abusive counselor that may or may not hold back from where the Swedish film went), slightly different mood and temperature. It's unknown whether or not the eight-minute preview will be attached to theatrical Sony/Screen Gems screenings beyond the Mouth Taped Shut promo events, but keep your eyes peeled for it to debut online in the coming weeks, perhaps in the form of a shrewdly timed "leak."