Letter from Toronto: Michael Winterbottom Takes Hardy to India with Trishna (and More)
Michael Winterbottom makes so many movies that some of them creep into festivals very quietly and, just as quietly, creep out, never to be seen again. That wasn't the case with The Trip, which played here last year, a woolly exploration of middle-aged angst that featured Steve Coogan and Rob Brydon (as themselves) bickering and trading Sean Connery impersonations as they made their way through the English countryside. But two years before that, in 2008, Winterbottom brought a picture called Genova to the festival, a mildly engaging drama in which Colin Firth plays a father who moves his family to Italy after the death of their mother. The picture never got a U.S. release, fading like the worn face of a stone saint on a medieval church.
I hope American audiences get to see Trishna, Winterbottom's take on Thomas Hardy's Tess of the d'Urbervilles set in contemporary India. Freida Pinto is Trishna, the Tess character, who comes from an impoverished family living in a small village. Jay (Riz Ahmed), is her Angel/Alec (Hardy purists should be warned that the two characters have been condensed into one), a man who sweeps her away from her life of poverty, only to end up resenting and degrading her.
Even if Winterbottom has taken what some might consider unforgivable liberties with the story, Trishna works: Winterbottom has a feel for the story's landscape, including the hardscrabble beauty of the countryside, all yellow dust and scrubby trees. It's both a place Trishna needs to escape from and it's home -- there's no safety or freedom there, but it's the only place she's truly herself.
Pinto gives a lovely performance here. No other role she's been given -- as the hero's dream woman in Slumdog Millionaire, or as a Palestinian orphan girl in Julian Schnabel's deeply disappointing Miral -- has asked as much of her, and she greets the challenge boldly. In the barest terms of the plot, Trishna is a victim, a tragic heroine, but Pinto always lets you see the character's immovable self-assurance shimmering beneath the surface -- that's the very thing that threatens her lover and tormentor, and brings about her downfall.
In Winterbottom's scenario, Jay's sudden turn against Trishna isn't believable or readable in movie terms -- his love for her appears to be operated by a switch that turns off abruptly without cause or reason -- but it makes sense in the grander scheme of the impossibility of love. The dialogue here is mostly improvised -- this is a casual, hip-pocket approach to a revered classic -- but Winterbottom keeps the story moving deftly. We might appreciate Winterbottom more if he worked less, but he's unlike any other filmmaker on the landscape, trying something new just about every year. Some of it sticks and some of it doesn't. But almost always, he gives us something worth looking at.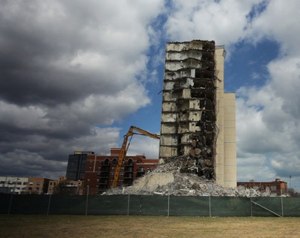 This is my last morning in Toronto, and even though I've seen plenty here, the ghosts of all the films I've missed are already starting to haunt me. Then there are the ones I saw and simply didn't have time to write about, like Malgorzata Szumowska's Elles, in which Juliette Binoche plays an upper-class French journalist whose investigation of the lives of two young prostitutes triggers more awareness of the cracks in her own life. Szumowska can't quite make the contrast work, but Binoche is typically wonderful here -- her scenes with the young women are pure pleasure to watch.
Also noteworthy is Urbanized (pictured above), the third documentary by Gary Hustwit, following Helvetica, a study of the much-used and much-loved typeface, and Objectified, which explores the design behind the objects we use everyday (like, for example, the MacBook I'm using right now). Full disclosure: Hustwit is a friend. But his fleet, concise documentary about urban planning and the lives of cities -- you could call it an unspoken love letter to the spirit of Jane Jacobs -- is the kind of picture that opens your eyes to all kinds of details that slip past us city dwellers every day.
And with that, I bid Toronto adieu. I've had a terrific week, seeing movies and getting jacked on Coffee Crisps (which, next to English Kit-Kats, may be God's perfect candy). I always miss this city and its festival when I leave, but I happily look forward to returning next year. And so until then, goodbye, Toronto.