Finally, the Real Reason That Ryan O'Neal Left Dancing with the Stars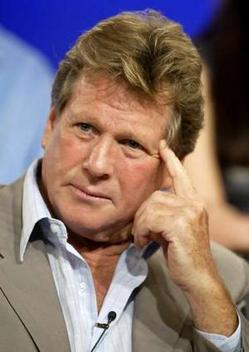 Some of us were too excited about Ryan O'Neal competing on Dancing With the Stars, reenacting Love Story scenes using elements of jive, and wowing Bruno Tonioli with those ageless baby blues (browns?). Unfortunately, Mr. O'Neal claimed injury and dropped out of the show, and now Nancy Grace only has to out-hoof 11 other couples instead of 12. Boo. But a new report details a much different reason for O'Neal's departure, and it may force us to give the Tatum-flrting actor a bit of credit.
According to TMZ, Ryan O'Neal so resents Nancy Grace's opinions about him and his beleaguered son Redmond that he dropped out of the competition. Redmond O'Neal has had ongoing drug issues in recent years.
Nancy Grace has already responded to the allegation:
"We have never covered Mr. O'Neal nor his family on our show... I hate that he dropped out of DWTS; I would have loved to compete with him and wish him the very best."
Sources connected to O'Neal say he's bitter toward the HLN star in private. I don't blame him: She'd have objected to Paper Moon's portrayal of a deadbeat dad and a chain-smoking 10-year-old daughter. That Nancy. No fun for tobacky-hacking preteens, ever.
· I Never Trash-Talked Ryan O'Neal [TMZ]