James Franco Might Be Interested In Your James Franco Artwork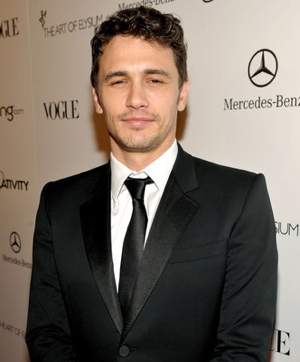 Do you have a James Franco needlepoint wall hanging? A James Franco blood splatter portrait? Absolutely anything that could be classified as an art project created in the likeness of Hollywood's favorite multi-tasker and least favorite Academy Award co-host? If so, your muse may be interested in the very artwork he inspired, at least according to this touching fan-Franco interaction straight from the Toronto International Film Festival.
On Sunday, Sept. 11, Franco was at the Canadian film fest discussing his new art installation, "Memories of Idaho" -- a tribute to Gus Van Sant's 1991 film My Own Private Idaho -- when he noticed 13-year-old Macy Armstrong in the crowd holding three pieces of homemade artwork: "a portrait of Franco made out of yarn; a collage made from newspaper clippings and a canvas inspired by the poster for 127 Hours."
According to the Canadian Press, Franco halted his discussion to point at Armstrong's artwork and announce that he wanted to purchase it. While some members of the audience laughed, Franco continued, "I saw that one on the Internet, someone sent it to me. I wanna buy those."
Armstrong, who was wearing a homemade t-shirt featuring Franco's face, handed the artwork to an assistant who took down her e-mail address.
Later, Armstrong posted on her blog (http://jamesfrancoforever.tumblr.com), "He looked at me, he spoke to me, and I'm pretty sure we mentally got married!" she wrote. "Everyone on the street thinks I'm crazy because I'm freaking out! It's like a dream."
Congratulations, Macy! I hope that Mr. Franco pays for his artwork. If not, may I suggest Ryan Gosling as a mediator?
· James Franco tells teen he wants to buy her fan art [CTV.CA via Videogum]