Twit Wit: The 9 Best Contagion Tweets of the Weekend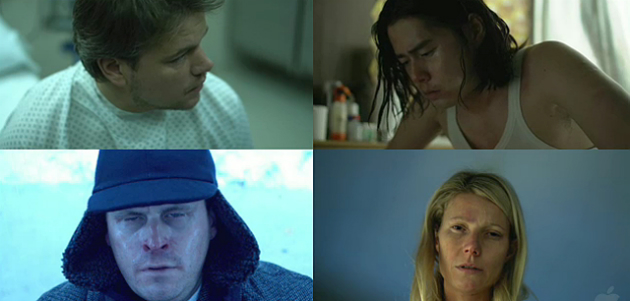 Contagion handily won this weekend's unremarkable box office race, but it was an even bigger smash on Twitter, where 140-character raconteurs offered up every version of your standard germ/Purell/Paltrow jokes. In our new feature "Twit Wit," we'll highlight nine tweeters who make us laugh, make us think or just say likable things about a new movie. With Contagion, the tweets ranged from supportive to silly, and our No. 1 is a rigorously scrubbed gem.
9. Pauly Peligroso
Twitter celeb Pauly Peligroso clocks in with a snipe at the expense of a Contagion costar. Hope this doesn't persuade her to take even fewer leading roles.
8. Johnny Weir
Figure skater and Lady Gaga aficionado proves that under the feathers, pompadour and glitter, he has a refined taste in actresses.
7. Warner Brothers
Hey, look! Warner Brothers liberally spreads the Contagion terror to those who won't see the movie.
6. Edgar Wright
Let Edgar Wright's stirring tale of loss, regret, and triumph fuel your own trip to the movies.
5. Simon Pegg
Perhaps you'll also respond to Simon Pegg's tweet with a befuddled, Kirstie Alley guffaw.
4. Frank Conniff
The MST3K vet weighed in with a weighty, but necessary take on Contagion's cinematic timing.
3. Patton Oswalt
Comedian and Young Adult co-star Patton Oswalt digs deep for an SNL reference that makes us nostalgic for Adam Sandler's "experimental" days.
2. Ana Gasteyer
Speaking of SNL's best, Twitter newbie Ana Gasteyer reflected on her earlier Contagion tweet with germ-free gusto. For the record, the "Delicious Dish" sketch was genius waaaaay before the "Schweddy Balls" phenomenon happened.
1. John Francis Daley
Freaks and Geeks alum and Horrible Bosses scribe John Francis Daley is blindsided by Contagion's cinematic relatives. Daley's got this countdown on Cruise Control (in the Speed 2 way).
Have a favorite tweet of your own? Drop it in the comments or shout out to @movieline on Twitter.