Fox Searchlight Picks Up Shame; NC-17 Next?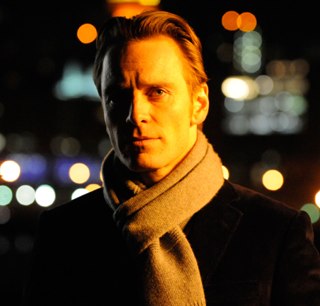 As presumed, word from the first day of the Toronto International Film Festival has Shame finding a distribution deal. But not quite as presumed, Steve McQueen's acclaimed drama is at Fox Searchlight -- which will almost certainly face an NC-17 rating for the movie's frank sexuality and graphic nudity.
As an offshoot of a MPAA studio signatory, Searchlight does not have the option of releasing Shame without a rating. And director McQueen -- a final-cut man with a background in video art -- has made it clear he won't trim a frame of his story about a deeply troubled sex addict (Michael Fassbender) and his sister (Carey Mulligan) in New York City. So the writing seems to be on the wall for Searchlight -- but the awards potential is written larger, mostly by critics like our own Stephanie Zacharek, who reviewed Shame last weekend from Venice.
"The bare story of Shame, when you lay it out, doesn't seem like much," she wrote. "But the actors bring everything to it; their suffering is both magnetic and painful to watch, almost as if it were a variation -- or an aberration -- of basic sexual attraction. Mulligan, with her bleached-blond crop of hair, resembles one of the cool-customer chanteuses of the '50s, like Helen Merrill but with a cherub's face. She's terrific here, and restrained in a way that suggests an actorly generosity unusual for someone so young: Her scenes with Fassbender don't so much say 'Look at me' as 'Look at him.'"
Expect more this weekend from Toronto and next month as Shame makes its way to the New York Film Festival. You'll be hearing about this one for a while.
Full Fox Searchlight release below...
==================
TORONTO, Ontario, Canada September 9, 2011 - Fox Searchlight Pictures Presidents Nancy Utley and Stephen Gilula announced today that the company has acquired U. S. rights to the intimate and provocative drama SHAME. The film is directed by Steve McQueen, written by McQueen and Abi Morgan and stars Michael Fassbender and Carey Mulligan. SHAME is a See-Saw Films production for Film4 and U.K. Film Council and produced by Iain Canning and Emile Sherman. Tessa Ross, Robert Walak, Peter Hampden and Tim Haslam are executive producers with Bergen Swanson as co-producer. HanWay Films is handling international sales. The film is scheduled to be released in 2011.
"Steve McQueen's courageous exploration of modern life's extremes is breathtaking. He has crafted an extraordinary film that probes some of the deepest and darkest issues ever portrayed on screen with amazingly gifted performances by Michael Fassbender and Carey Mulligan," said Gilula and Utley.
"Fox Searchlight contacted us immediately after the screening in Telluride to tell us how much they loved the film. Their approach to marketing and distributing the film this year was incredibly detailed and impressive. We are excited to be working with them on a film that is sparking debate and a strong emotional reaction from audiences," said Canning and Sherman.
"This is a brave statement and an important move by Fox Searchlight. I am very happy they came on board to release Shame in the U.S. It's great to be working with a team that is so passionate about cinema," said McQueen.
Brandon (Michael Fassbender) is a New Yorker who shuns intimacy with women but feeds his desires with a compulsive addiction to sex. When his wayward younger sister (Carey Mulligan) moves into his apartment stirring memories of their shared painful past, Brandon's insular life spirals out of control.
The deal was brokered by Fox Searchlight's Executive Vice President of Worldwide Acquisitions Tony Safford, Senior Vice President of Business Affairs Megan O'Brien, Vice President of Acquisitions Ray Strache with Thorsten Schumacher and Claire Taylor of HanWay Films on behalf of the filmmakers.
Fox Searchlight Pictures is a specialty film company that both finances and acquires motion pictures. It has its own marketing and distribution operations, and its films are distributed internationally by Twentieth Century Fox. Fox Searchlight Pictures is a unit of Fox Filmed Entertainment, a unit of Fox Entertainment Group.
###